December arrived Sunday and brought with it the first day of Advent. That's right, for those who celebrate Christmas, the countdown to December 25 has begun!   This is one of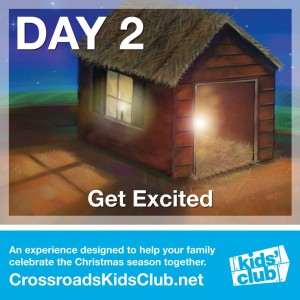 kids' favorite traditions.   Many long-standing traditions exist around Advent, from keeping a wreath to eating a piece of chocolate while marking off another day on the calendar. But these days, Advent has gone digital.
One local organization created a free online Advent experience with daily music or videos, activities, and verses to help families celebrate to Christmas together. Start today or check out days prior.  Check it out here: CrossroadsKidsClub.net/advent. Save the link in your browser; A new entry will be posted every day through Christmas Day.
This experience is accessible for all families and provides fun and tangible ways to focus on the Christmas story in the Bible, bond as a family or spread Christmas cheer to others.
Not sure if it's for you? Try out Day 1 or Day 4 and see what you think!  Come back as often as you wish.   With the weekend forecast you may have time to view several days or get caught up.
Enjoy!