If you've been reading Family Friendly Cincinnati for a while, you know that we love the arts. We love the theatre, we love visual arts, we love dance, music and more. You name it, we love it. In Cincinnati we are lucky to have a vibrant arts scene filled with family friendly arts options. When it comes to going out, we are always looking for ways to save on our night out and make it more affordable. So we were excited to learn about ArtsWave's new ArtsPass, an option that not only allows us to enjoy and support arts organizations, but that also helps us save money!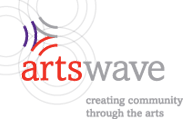 With a donation of $75 or more or more to ArtsWave you have the option to receive the ArtsPass (formerly the Fun Card), connecting you to discounts and special offers from some of the biggest arts organizations in the city and even local retailers and fun restaurants.
Some of the awesome offers include 1 free admission with 1 paid admission to The Carnegie's Carnegie in Concert series, Cincinnati Ballet, the Cincinnati Children's Choir, Cincinnati Opera, Cincinnati Fire Museum, Cincinnati Symphony, CCM, Contemporary Arts Center, Cincinnati Shakespeare Company, and more. There are also discounted tickets available for Broadway in Cincinnati, Cincinnati Black Theater Company, Cincinnati Boychoir, Cincinnati Playhouse in the Park, the Wyoming Fine Arts Center and others.
Use the ArtsPass for a date night and go to one of the participating restaurants or use it to expose your kids to fantastic art. The donation supports the vibrant arts community in Cincinnati and pays for itself in after a few events, though we can't guarantee you won't use it as an excuse to buy more tickets! Click here to check out all the ways to use the ArtsPass.
Check out a list of all the discounts and offers available with the ArtPass.