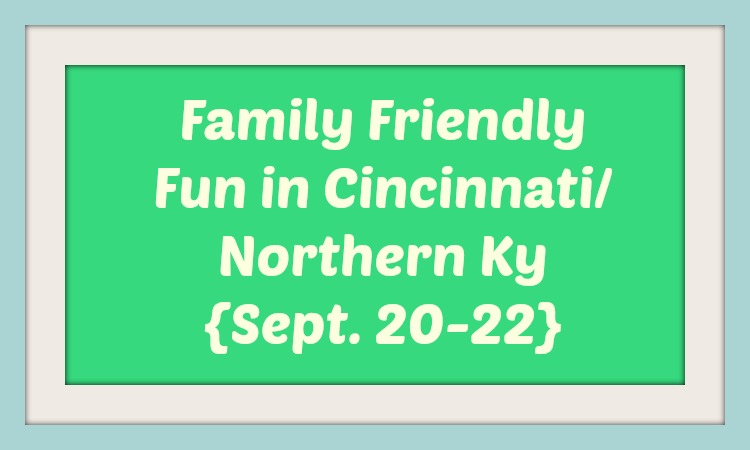 Once again it's time for weekend fun!  We work so hard to get to Friday every week we definitely deserve a reward, am I right?!  There is SO much to do around town this weekend, there has got to be that "one thing" that will make your weekend absolutely fabulous!
For starters…it's Bluegrass for Babies weekend at Sawyer Point this Saturday from 3-9 PM!  This fabulous concert and family fun event will definitely make your weekend great.  Besides fantastic music from The 23 String Band, Wild Carrot, and Comet Bluegrass All-Stars there are also six interactive experiences – Farmer's Market, Healthy Home, Family Wellness, Art and Music, Movement, and Special Needs.  Green Bean Delivery and Chipotle will be on hand with delicious and healthy eats, and kids 12 and under eat free with the purchase of an adult meal from the Green B.E.A.N. Delivery concession stand until 5:30pm. One free kids meal per one purchased adult meal.  This is a don't miss event!  For more information check out the website at www.bluegrassforbabies.com

Another fun music filled event this weekend….The Cincinnati Pops Orchestra will be performing The Final Frontier narrated by George Takei at Cincinnati Music Hall, 1241 Elm St. Cincinnati, Oh.  Tickets start at $25 for adults, children ages 6-17 get in for only $10 for all show times for this amazing event.  Here are a few more fun bits to keep in mind:
Have your photo taken with Stormtroopers in the Music Hall lobby before all performances!
Stick around after any performance for a stargazing lesson with the Cincinnati Observatory (weather permitting)! For the Sunday matinee, point your eyes at the skies with their solar scopes.
Tug-of-war(also weather permitting)! Friday only (Sept 20), 7pm at Washington Park. Join a tug-of-war battle between Star Wars and Star Trek fans! Costumes are encouraged and there are prizes—and bragging rights—to be won!
Check out the Cincinnati Pops website www.cincinnatipops.org  for more information or to purchase tickets.  We'll be there tonight for Tug of War (and we're split…2 for Star Wars, 2 for Star Trek…come help us win!)
SO much fun in the 'Nati this weekend…don't miss out!  Read on for more weekend family fun:
Friday
Play Art   10:00am – 11:00am    Kenton County Public Library      Covington Branch | 502 Scott Blvd. Covington, KY 41011      Free
Join us for some creative playtime with songs, stories and hands-on art.  http://www.kentonlibrary.org/
Jump N Jam feat. JetSet GetSet     7:30pm – 10:00pm         Pump It Up        7724 Service Center Dr., West Chester, OH 45069     $12
Pump It Up is the #1 place for Tweens/ Teens to party! Tweens & Teens between the ages of 9 to 14 come check out our awesome sound system, rock climbing wall, laser lights, black lights and of course bouncing. This month will feature a live band performing in our Pump It Up arena! Come out and see JetSet GetSet rock our facility LIVE with a special meet and greet following the show.   www.PumpItUpCincinnati.com
Two Small Pieces of Glass at the NKU Haile Digital Planetarium     7:30-8:30 pm      Northern Kentucky University Science Center 409     Free
Two Small Pieces of Glass- The Amazing Telescope – This show follows two students as they learn how telescopes work and how the largest observatories in the world use these instruments to explore the mysteries of the universe. While looking through the telescopes, the students, along with the planetarium audience, see the Galilean Moons, Saturn's rings, and spiral structure of galaxies. They also learn about the discoveries of Galileo, Huygens, Newton, Hubble and many others.  View Two Small Pieces of Glass, learn how to observe with binoculars, and preview the Fall constellations. Weather permitting, there will be a telescope observation.   http://nkuconnections.nku.edu
Saturday
Bead Challenge Cincinnati   
10:00am-4:00pm Open House     

Brazee Street Studios     4426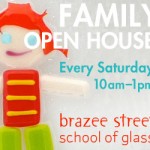 Brazee Street, Cincinnati, OH 45209     FREE

Support Beads of Courage and participate in our annual Bead Challenge! Young artists are invited to learn some beadmaking techniques with polymer clay, creating as many beads as they can in the allotted time. Beads will be fired and donated to children with serious illness through Beads of Courage.
September Family Open House: Colorful Coasters     Stop by anytime between 10am-1pm     Brazee Street Studios     4426 Brazee Street, Cincinnati, OH 45209      $15/coaster
Say goodbye to water rings on your table, and hello to glass art- bring the whole family to create colorful coasters for your home! Choose from a variety of colors as your background and use Bullseye Glass components to design your own glass coasters in this Open House style class.  http://www.brazeestreetstudios.com/home/classes/sog-kids.html
Mothers of Twins Semi-Annual Sale   9am – 11am       The METS Center 3861 Olympic Blvd. Erlanger, KY 41018      $1.00 for nonmembers & FREE to members
Mothers of Twins holds it semi-annual sale this Saturday at The METS Center in Erlanger.  Toys, baby furniture, car seats, swings, holiday outfits, spring and summer clothes,bottles, bedding, high chairs, maternity, strollers, books, videos, and so much more!  Cash Only (New This Year-Credit cards will be accepted for gear purchases ONLY)   Don't forget to visit our bake sale also!  Questions?  Call Rebecca at (859) 384-0641.   http://nkmotc.webs.com/springfallsale.htm
Chicken Rodeo featuring Farmer Jason    1:00pm – 3:00pm      Kenton County Public Library     William E. Durr Branch | 1992 Walton-Nicholson Rd. Independence, KY 41051    Free
It's chicken chasing time! Sign up for the 7th annual Chicken Rodeo. For an added treat, Emmy Award winning Farmer Jason will perform immediately following the rodeo.   Please call 859-962-4032 to register.   http://www.kentonlibrary.org/
International Red Panda Day Celebration  2:00pm – 4:00pm     Kenton County Public Library     Erlanger Branch | 401 Kenton Lands Rd. Erlanger, KY 41018    FREE
Celebrate International Red Panda Day at the library! Enjoy storytime, crafts, and meet a Red Panda Zookeeper.  Storytime at 2 p.m. in the Children's Activity Room  Open Crafts from 2:30-3:30 p.m. in the Children's Activity Room  Presentation with Cincinnati Zoo's Red Panda Zookeeper at 3:30pm in the Meeting Rooms.  Please call 859-962-4003 to register.  http://www.kentonlibrary.org
Potter's Ranch 16th Anniversary Event     10am -6pm     Potter's Ranch Wilderness Retreat     5194 Beaver Road (Hwy 338)     Free admission and activities- and some optional activities are $1 -$12
A fun filled family focused Anniversary Event celebrating Potter's Ranch's 16 years of ministry. There will be plenty to do and eat! Zip down either of our new dual ziplines or meet our new horses and you explore our scenic trails. Form more information visit www.pottersranch.org
Building Blocks for Kids 5K Run, Walk & Roll for Hope     7:30-11:00am        Corwin Nixon Park-Mason
Building Blocks for Kids (BB4K) is excited to announce the 7th annual 5K Run and Walk of Hope event. This family friendly event supports the BB4K mission. The BB4K mission is to improve the quality of life for children with health-related needs that are unmet through traditional means by offering grants, referrals, and alternative resources. These are needs not being met due to lack of insurance, insurance coverage, government assistance, and/or family resources.  To learn more, visit http://www.bb4k.org/
Country Pumpkins "Got Milk" Day        9am – 7pm     Country Pumpkins     1835 Sherman Mt. Zion Road, Dry Ridge, KY 41035
First 100 guests receive FREE chocolate milk! Free cow milking demonstrations will be given throughout the day for your family – this will be a fun and educational presentation about cows, milk, and our life on the dairy farm! Cow milking times TBA.   for more info visit: www.countrypumpkinsky.com
Sunday
The Village Vintage and Art Bazaar     Along the Sixth Street Promenade in MainStrasse Village, Covington, KY
Purveyors of antique, vintage, and repurposed items as well as local artists will be showcased along the Sixth Street Promenade for browsing, buying and enjoying on the fourth Sunday of each month. www.mainstrasse.org
Panerathon      Panera Bread at Deerfield Towne Center – 5095 Deerfield Boulevard in Mason, OH     $20-40
The event is a 5K/10K race open to all ages! The 10K run begins at 9:00 AM followed by the 5K. All proceeds go to the Shared Harvest Food Bank and Mason Food Pantry.   http://www.panerathon.com/index-cincinnati.html
WORLD RHINO DAY AT THE CINCINNATI ZOO
World Rhino Day this Sunday from 10am-4pm with Special events for guests including a scavenger hunt, raffles, a rhino marketplace, and interactive encounters with Indian, black and Sumatran rhinos."
All Weekend Long and Ongoing Fun!

Old West Festival      September 7 to October 6     10 AM to 6 PM       1449 Greenbush Cobb Rd. in Williamsburg, Ohio 45176 (just off U.S. Rt. 32, near Greater Cincinnati).    Tickets are $12 for adults and $6 for kids ages  6 to 12.  Kids 5 and under are FREE.  Parking is FREE.

Open Saturdays and Sundays only!   Come check out The Pickled Brothers Circus, a magic show, re-enacted gun fights, and themed weekends.  This weekend is Steampunk!   www.oldwestfestival.com 
Jack-O-Lantern Junction     10:30 a.m.-6 p.m     EnterTRAINment Junction     7379 Squire Ct., West Chester, OH 45069     Starts at $9.95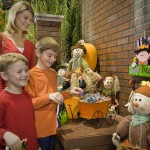 Indoor, climate controlled family Halloween celebration in a kid-friendly, themed environment; Main Street Halloween decorations; walk-through trick-or-treat maze with non-scare ghosts, skeletons, cobwebs and multiple treat stations; area's only indoor Pumpkin Patch (where kids get a free mini-pumpkin); Halloween crafts; talking pumpkin; Halloweenville miniature animated display; outdoor straw maze and Halloween themed hand-cranked train cars and electric train ride (weather permitting); all other attractions also open, including the world's largest indoor model train display, giant kids' play area, A-maze-N FunHouse, new, interactive Coney Island replica, American Railroading Museum, and more.  www.entertrainmentjunction.com
Zumba / Circus Silly Willy Class      9am – 10 am     Circus Mojo     326 Elm Street (RT 8) Ludlow, Kentucky, 41016     $99 for 6 classes
The Zumba / Circus Silly Willy classes are great for parents and caretakers and for the children! While the adults "get their Zumba on"- the children get to participate in a Circus Silly Willy Class.  Circus Silly Willy classes are for children aged 4 to 6 and incorporate the basics of Circus Mojo circus arts classes.  www.circusmojo.com
Farmers Markets ::
There are a multitude of wonderful Farmers Markets around town that you can visit for fresh, local, delicious foods, flowers and more…and Farmers Market season won't last too much longer! Check out this post for a list of markets in Cincinnati & Northern Kentucky. Find one in your neighborhood, or visit a new neighborhood market! http://familyfriendlycincinnati.com/2013/05/09/farmers-markets-in-cincinnati-northern-kentucky/