If you live in Cincinnati you should be celebrating right now because there is now a Chuy's on your side of the river!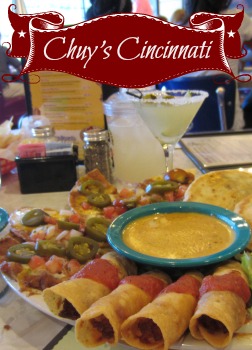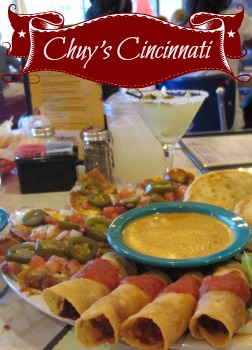 Northern KY was blessed with a Chuy's location in Florence last year, and it's since become one of my favorite restaurants.   Chuy's is not like any Tex-Mex restaurant you've been to.  Chuy's Cincinnati is located in Madeira, close to the Kenwood Town Centre.  It's the first Chuy's to open in Ohio.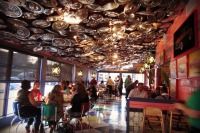 The decor is fun & flashy and keeps you entertained throughout the meal.  There's so many eclectic touches, from the shrine to Elvis, to the wall of chihuahua portraits, to the handmade wooden painted fish that swim across the ceiling, to the room full of hubcaps, and best of all, the hidden legos!  There are numerous lego bricks scattered throughout the restaurant (see picture below) I only found a few.  This is a perfect game to keep the kids occupied during dinner!  My favorite touch is the Fully Loaded Nacho Car where you can load up on some tasty nachos during happy hour, which is 4-7pm on weekdays.  And be sure to check out their t-shirts as well…so cool!
Do you spy the LEGO Brick in this picture?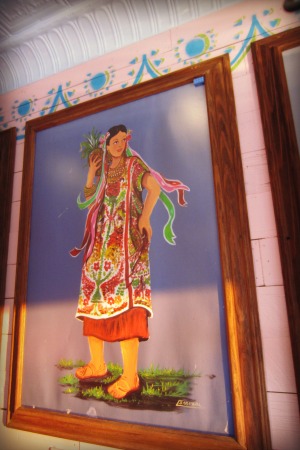 The food is made right there in their kitchen at Chuy's with fresh ingredients, and the portions are so hearty that you'll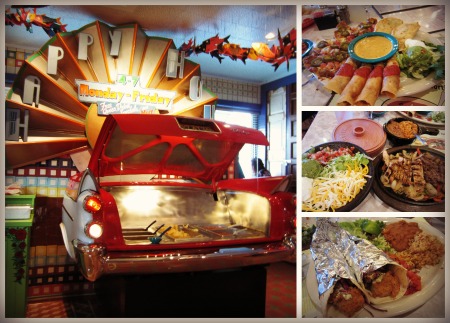 probably have enough to take home for lunch the next day!  They have a menu full of great options from traditional tex mex to menu items that they have put their own spin on.  They also have a kids menu to please the pickier eaters.    The prices are reasonable at Chuy's, and the service is outstanding.  You can tell that the employees of Chuy's take their job very seriously…but have fun at the same time.  They make sure you don't wait too long for drinks, and know just what to suggest to eat when you are debating all of the tasty choices on the menu.  The servers at Chuy's make your dining experience feel more like a fiesta than a humdrum dinner.
Chuy's Cincinnati is located at: 7980 Hosbrook Road in Madeira be sure to look for them on Facebook!
Disclaimer :: We were invited to a free preview night for the media, but the opinions in this post are 100% genuine.