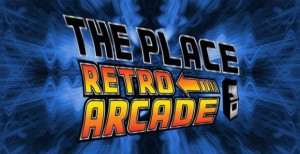 I ran into (almost literally) a good friend of mine a few weeks walking across the Dillonvale Shopping Center parking lot with his two kids in tow. Being the curious one that I am, I stopped him to ask what he was up to. Why, heading to the Retro Arcade, of course! I'd never heard of it, but when I got home, I told my husband and son about the place. Needless to say, my son bugged my husband until he took him. And then took him again, and then took me and his big sis along as well.
First — this place is cool! Any arcade game you'd like to play, it's most likely here from the 80's all of the way to the most current systems. Learn more about what's available to play on their website.
Two — it's inexpensive entertainment. Play as much or as little as you'd like for $4 an hour for kids (or $6 an hour for adults). That's right. It's a one price fee to play everything and everything.
Third — it's convenient. Located at 4069 E. Galbraith Rd., this is like I said right across from the Dillonvale Shopping Center (does this make this in Deer Park or in Dillonvale?) As there really isn't parking in front of the arcade, just plan on parking in the shopping center and walking across the street.
Fourth — the owners are super friendly and helpful. Any help you need, you got it.  This is certainly a family friendly place.
It's only open on the weekends: Friday 6 p.m. – 11 p.m.; Saturday from Noon until 11 p.m.; and Sunday from Noon until 8 p.m.
They also will host birthday parties for you during the week. They cost $125 — bring as many kids as you'd like along with any kind of food you'd like. This is a seriously good deal!
We were very pleased to have found such a nice place close to our home where we can go and have some good clean indoor fun when the mood hits us. We also like that we set the bar at, "you have an hour. Go crazy. Have fun. Then we're leaving."
Keep up on all of the happenings at the Arcade by liking them on Facebook.
When not blogging for Family Friendly Cincinnati, you can find Karen writing at her personal blog, Little World After All.