This summer we took a jump back in time and went to the drive-in movies with friends of ours.  Starlite Drive-In, located in Amelia, is one of less than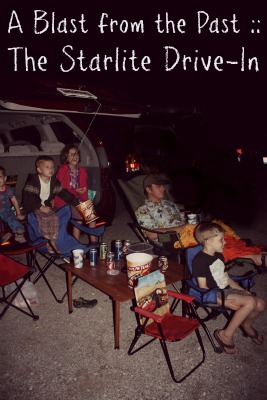 400 drive in movie theaters left in this country.  It's a great place to take the family for a movie night!  I was surprised to find that Starlite shows the same movies that you find in theaters, I had assumed they would show older movies or movies that had been out for a while.  But no!  We saw Despicable Me 2 at Starlite on the day it came out in theaters.  Starlite shows two movies each night.  Usually they start with a kid friendly flick and then after that is over they move on to a movie the adults will love.  The night we went the second feature was World War Z, which I really wanted to see…but we were simply to tired to stay up that late…it had been a long week.
The Starlite Drive-In is open from the beginning of April through the end of October depending on weather and movie selection.  We headed up to the movies early the night we went, which left plenty of time to eat some dinner and spend some time on the playground letting the kids run off some of their energy before the movie started.  You are allowed to bring your own food to the Starlite Drive In, but you will have to buy a $5 food permit (which has a $2 off coupon for popcorn on it!).  The Starlite Drive In depends on food sales, so they encourage people to buy food at the concession stand.  I was pleasantly surprised to see that the concession prices were quite reasonable, and they had alot to offer besides the usual popcorn & candy you find at the movies.  They also had hot dogs, hamburgers, coneys, pizza, and much more!  We packed fruit, a few snacks and drinks, but ended up buying dinner and popcorn at the Concession Stand, it was a perfect mix!
Like I said, when you go to the Starlite Drive In you get to see two movies for the price of one.  And the ticket prices are not bad at all!  Adults & Children 12+ are $8.50, Children (4-11) are $5.00, Children under 3 are FREE, Seniors (60+), Active Military, Fireman or Police (with ID) are $6.50.  And on Tuesdays you can get a carload of up to 6 people in for just $22.00!   The Box Office & Concession Stand open at 7:30 Sundays through Thursdays and at 7pm on Fridays and Saturdays, with the movies starting when it gets dark, around 9pm (check website for times).  Our family had alot of fun at Starlite with our friends, even with a little bit of rain during the movie we still enjoyed ourselves and the kids are still talking about it!  I can't wait to go back!
The Starlite Drive In is located at 2255 State Route Ohio 125 in Amelia.  To find out more information such as directions, FAQs, movies that are showing, and more…check out the Starlite Website or Facebook Page.