We are excited to share that New York Times best-selling author, Tom Angleberger will sign copies of his latest book in the Origami Yoda Series, "The Surprise Attack of Jabba the Puppett" at blue manatee children's bookstore and decafe THIS Friday, August 9  at 7pm.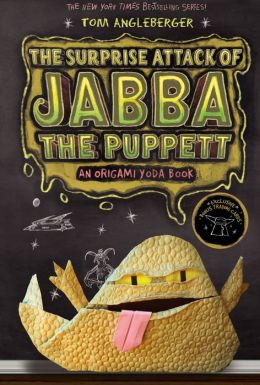 About the book
Dark times have fallen on McQuarrie Middle School. Dwight's back—and not a moment too soon, as the gang faces the FunTime Menace: a new educational program designed to raise students' standardized test scores. Instead, it's driving everyone crazy with its obnoxious videos of Professor FunTime and his insidious singing calculator! When Principal Rabbski cancels the students' field trip—along with art, music, and LEGO classes—to make time for FunTime, the students turn to Origami Yoda for help. But some crises are too big for Origami Yoda to handle alone: Form a Rebel Alliance the students must. United, can they defeat the FunTimeMenace and cope with a surprise attack from Jabba the Puppett?
With this latest episode in the explosively popular Origami Yoda series, Tom Angleberger proves once again that he "has his finger puppet squarely on the erratic pulse of middle-school life" (Washington Post). (Abramsbooks.com)
Get the Book, Meet the Author
Available to the public on August 6, just three days prior to the signing, "The Surprise Attack of Jabba the Puppett" is available for pre-order through the blue manatee website (www.bluemanateebooks.com) or by calling the store at (513) 731-2665. Line numbers will be given with pre-order and purchase.
More information is available at www.bluemanateebooks.com or by calling (513) 731-2665. This event is open to all ages and free to attend.
Thank you to FFC advertiser, blue manatee children's bookstore and cafe, for giving us a heads up about this event.