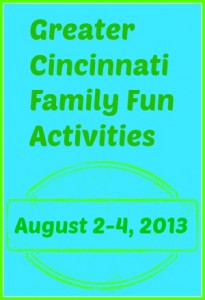 August is here already!   Some of our area kids are already hitting the books again for the year, some of them still have a week or two left before those buses start rolling through the neighborhoods. Either way there's still a ton of fun to be had on the weekends and this weekend is no exception! Froyo and facepainting, festivals, fairy tales, and more!  Make sure you check the bottom of the post for ideas for farmer's markets, free movies, and much more!
Friday

First Fridays in Bellevue "Taste of Bellevue"   ~Fairfield Avenue in Bellevue, Ky   ~Starts at 6 PM
Every first Friday, Bellevue Renaissance hosts Shop Bellevue! – a fun-filled evening along historic Fairfield Avenue.   The shops, restaurants, and other participating businesses are open late with many offering open houses and specials to compliment the evening's themed activities.  This month's theme: Taste of Bellevue.  Visit www.shopbellevueky.com for more info.
Froyo and Face Painting     ~Kocanut Joe's    ~Fridays until August 30 | 6:30-8:30 p.m.
Kocanut Joe's Frozen Yogurt    FREE     Froyo & Face Painting Friday's  Every Friday up through August 30th Kocanut Joe's will have FREE face painting available from 6:30-8:30 p.m.  (First come, First served and the last painting will begin at 8:15p.m.)
Mosaic Live   ~Nisbet Park, Loveland  ~Free!
Our new church is hosting a block party in the park called – MOSAIC LIVE! It is our gift to the community! It will take place at Nisbet Park in Loveland from 6:00 – 8:00 p.m. and we will have an incredible live band, puppets, games, performances, goodies, giveaways, face paint, and more! Come join us in the heart of Loveland for this Friday night family-friendly event! [email protected] for any additional info.
Saturday
SOG Summer: Self-Portraits  ~  Brazee Street Studios    ~ 1:30pm – 3pm     $30, Ages 6+
Bring your young artist to Brazee and create glass art! Use a variety of Bullseye Glass materials to create one-of-a-kind fused glass self-portrait. Students will each create a 6×8" fused glass hanging portrait. No experience necessary.
Lebanon Blues Festival ~  August 3, 2013    ~Downtown Lebanon, Ohio   ~ Free!
8 Blues bands, Red Hot Blues Run, beer garden, classic car show, great Bar-B-Q  www.lebanonbluesfestival.org
Curiosity Satudrays: Explore Nature    ~Washington Park    ~11AM to 1PM    ~Free
Saturday's FREE programming will feature a fun-filled and informative afternoon with the Cincinnati Park Board's Explore Nature Program. The Cincinnati Public Library will also be on-site as well with plenty of great books and activities.  Visit www.WashingtonPark.org for a full activity schedule.
 Chuck Wagon Dinner Ride   ~ Saturdays  June, July, August & Labor Day Weekend, 2013   ~5:00pm – 9:00pm    ~Bonnybrook Farms       ~Bonnybrook Farms 3779 State Route 132, Clarksville, OH  45113    ~Adults $30.; Children 4-12 $17.; 3 & younger free
A Chuck Wagon Dinner Ride offers a FUN evening of GREAT food and camaraderie for families, friends and groups of all sizes. Enjoy the outdoors and some 'Fun on the Farm' activities. When the dinner bell rings, enjoy a barbecue meal of hickory smoked pulled pork and chicken and farm fresh, locally grown salads and sides.  After dinner, board the wagon for a ride to Todd Fork Creek. At the old chuck wagon, choose from fresh baked desserts then gather 'round the campfire to roast s'mores. Visit www.BonnybrookFarms.com for more info.
ManaTots at blue manatee    ~Saturdays  9:30am     ~blue manatee children's bookstore and decafe     ~3054 Madison Road Cincinnati, OH 45209 ~  Free, children up to age 4
Stories, songs and fun.  www.bluemanateebooks.com
OTR Community Festival   ~Washington Park   ~Noon to 5 PM
The Over-the-Rhine Community Festival is set to return to Washington Park for their annual neighborhood picnic, and you're invited. The festival will feature games, face painting, food, fundraising raffles, children's talent show, DJ music and other live entertainment.  Feel free to call the Contact Center at 381-4242 for additional information.
Madonna Jam 2013-sponsored by  Angelman Fragile X Alliance of Greater Cincinnati (AFXA)  ~Covington Landing on the River, Covington, KY    ~6:00pm-9:00pm    ~$25 (kids free!!)
Madonna Jam is a benefit concert created by Cincinnati mom, Penny Alder-Jusko, in honor of her 9 year old daughter, Madonna, who was diagnosed with Angelman Syndrome (AS) in 2006. This year's concert is in support of Angelman Syndrome and Fragile X Syndrome in the Greater Cincinnati community through the Angelman Fragile X Alliance of Greater Cincinnati (AFXA), with proceeds to support the newly-established Angelman/Fragile X Clinic at Cincinnati Children's Hospital. Performers include: Madonna Jam founder and nationally-acclaimed recording artist, singer/songwriter Brian White; Eliot Sloan from Blessid Union of Souls; #1 Christian recording artist, Karyn Williams; and rising star songwriter/artist, Phil Barton. Kids are free, so bring the whole family!! In addition to online purchase (www.afxacincinnati.org/events), you can also purchase in-person at all Eli's Sports Bar & Grill locations (elissportsbar.com). Walk-ins are also welcome!
Beyond the Galaxy    ~Skidaddles 5939 Deerfield Blvd Mason   ~5pm-midnight   ~$8.50 hour
The stars are calling our name. Come explore space with Skidaddles. We might even see a shooting star. Skidaddles is a drop in child care center open from 10am to Midnight on Saturdays. Come join the fun!
CINCINNATI SUMMER Sports Day     ~Cincinnati Art Museum     ~11 AM to 3 PM
Art and Sports do mix at the Cincinnati Art Museum. Join us this Saturday, August 3rd for a classic tailgate complete with local mascots – including the University of Cincinnati Bearcat, The Cincinnati Reds Gapper, and Twister from the Cyclone – corn hole and hot dogs! Try your hand at our slap shot, football throwing, and basketball free-throwing contests. Explore the collection with a sporty scavenger hunt and take in our special exhibition Eternal Summer: The Art of Edward Henry Potthast. We'll also be screening great Cincinnati sports moments in our Great Hall throughout the afternoon.  For general information, call (513) 639-2995 or visit www.cincinnatiartmuseum.org.
Ooh La La & The Greaser Concert Performance  ~Smale Park   ~4PM   ~Free!

Come out early before the Reds game on August 3rd, and catch a FREE performance by Ooh La La & the Greasers at the Schmidlapp Event Lawn in Smale Riverfront Park!
Seussical Jr.   ~Sharonville Fine Arts Center   ~

2 and 7 pm   ~

$7 for adults and $5 for children (2-12).
The show centers on Horton the Elephant's endeavors to protect the people of Who-ville, who live on a tiny speck of dust. It also features characters and scenarios from many other Seuss books, including the Butter Side Uppers/Downers from The Butter Battle Book, Gertrude McFuzz, and, in addition to a music number based on its original story, The Cat in the Hat also acts as "your host and MC" – sometimes being an outside observer, a narrator and devils advocate throughout the show, briefly leaping into the action on several occasions to create conflict and keep the story moving.  Its a great show for children of all ages!
Sunday
Ohio Valley Greenmarket ~ August 4 ~ Ault Park
The mission of Ohio Valley Greenmarket is to celebrate the sustainable efforts underway in our regional community – to demonstrate the benefits of embracing local food and commerce, healthy choices, and sustainable lifestyle practices for the advancement of the community. Attend – ees meet national and regional speakers, sustainable business leaders, participate in hands-on workshops and demonstrations in a fun-filled and positive environment. http://ohiovalleygreenmarket.com/
All Weekend
My Name is Rumpelstiltskin   ~August 2-10, 2013   ~Beechmont Players, Inc. at Anderson Center: 7850 Five Mile Road Cincinnati, Ohio 45230   ~$15 general admission; $13 children, seniors (60+) and active military
To become the most powerful force in the kingdom, the wizard Rumpelstiltskin must possess a child of royal birth. He spreads the word that the miller's daughter can weave straw into gold. Since the kingdom is bankrupt, she's whisked off to the palace and ordered to spin. With Rumpelstiltskin's help, she delivers the gold. When she marries the prince and has a baby, she has 24 hours to guess the wizard's name or lose her child.  www.beechmontplayersinc.org
DCCH Summer Flea Market Sale!  ~Diocesan Catholic Children's Home in Ft. Mitchell   ~
Attention bargain hunters and treasure seekers:  be sure to mark your calendars for August 3 & 4!  DCCH Center will once again throw open the doors to our famous Flea Market for the annual Summer Sale!  Part of the "World's Longest Yard Sale",  the Flea Market Summer Sale has something for everyone:  furniture, jewelry, housewares, clothing, vintage vinyl, toys, sporting goods, holiday décor and much, much more!!  Food and beverages will be available, and 100% of the proceeds benefit the children living at DCCH Center.  For first crack at the best merchandise, arrive early.  Doors open at 8am on Saturday and 11am on Sunday.For more information, please email [email protected].
Glier's Goettafest     ~ August 1-4     ~Newport's Riverfront Levee
Glier's Goetta has been a local Northern KY, and Greater Cincinnati breakfast favorite since 1946. But in 2001, Glier's, eager to show the world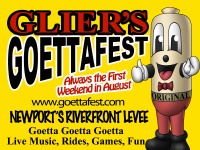 that Goetta is versatile enough to be eaten at any meal, created the first annual "Total Celebration of All Things Goetta". Join us as we enjoy goetta in over 40 unique recipes, play games, ride attractions, listen to free music and relax in Cincinnati's only Air Conditioned Festival Tent! Website with Event Information: Goetta.com, Goettafest.com
LumenoCity

   ~Washington Park    ~

Saturday, August 3: 8:30PM to 11PM and Sunday, August 4: 8:30PM to 11PM
This highly anticipated, first of its kind project marries a live orchestral concert experience with mind-blowing visual elements. LumenoCity kicks off a community wide celebration of Louis Langrée's arrival as the next CSO Music Director. In addition to the CSO, the concert also features John Morris Russell leading the Orchestra as the Cincinnati Pops, along with members of the May Festival Chorus, dancers from Cincinnati Ballet's CB2, and singers from Cincinnati Opera.  Visit www.WashingtonPark.org for more information.
St. John West Chester Family Festival   ~St. John the Evangelist Church   ~8/2 – 6pm-12am; 8/3 – 5pm-12am; 8/4 – 4pm-10pm
Great Bands! Friday: CUZN EDDIE, Saturday : DV8, Sunday: BLUESTONE IVORY
Great Attractions, Food, & Fun! Silent Auction ,Basket Bonanza , Major Award Raffle (2013 Hyundai Elantra or $10,000 cash), Great food (including our Famous Pulled Pork Sandwiches), Fun Rides! And don't forget all the GREAT GAMES! Funky Monkey, Snake Pit, Plinko, Duck Pond, Lucky Lolly, Ring Toss, Fish Bowl, & more … Just too much FUN to list!
The World's Longest Yard Sale in MainStrasse Village    ~August 1-4 along the Sixth Street Promenade and in Goebel Park,  MainStrasse Village, Covington, KY
Be sure to stop in MainStrasse Village as you're bargain shopping from Gadsden, Alabama to Hudson Michigan along US 127. www.mainstrasse.org
Ohio State Fair   ~July 24-August 4
Everybody loves a fair!  If you are up for a bit of a road trip then you're in for a treat as the Ohio State Fair celebrates it's 163rd year in Columbus, Ohio at the Ohio Expo Center.  Fair food, competitions, arts, crafts, rides, and everything you could wish for in a state fair…and more!  For detailed info please visit their website: http://www.ohiostatefair.com/
Send a postcard to the Kenton County Public Library     ~Through August 31
Send a postcard to the library from your vacation and we'll display them in the library. Visit the website for branch addresses.
Still looking for something fun to do?  Make sure you check out some of our other posts for summer fun:
We love Cincinnati…and we've got a great post full of 50 Kid-Friendly Things To Do In Cincinnati!
Farmers Markets :: There are a multitude of wonderful Farmers Markets around town that you can visit for fresh, local, delicious foods, flowers and more! Check out this post for a list of markets in Cincinnati & Northern Kentucky. Find one in your neighborhood, or visit a new neighborhood market!
Are you opting for a STAYcation instead of a vacation this summer?! There are so many fun things to do around town this summer…which will save you big bucks on gas! Our own wonderful region has so much to offer, here's a few of our favorite places around town to enjoy on your "staycation" :: http://familyfriendlycincinnati.com/2013/05/21/taking-a-cincinnati-staycation-draft/
FREE MOVIES!!! Many neighborhood parks are offering FREE outdoor movies this summer! Check it out: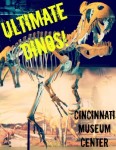 http://familyfriendlycincinnati.com/2013/05/23/2013-free-summer-movie-nights-across-cincinnati/
Don't miss the Ultimate Dinosaurs at the Cincinnati Museum Center! Read all about them here: http://familyfriendlycincinnati.com/2013/06/20/ultimate-dinosaurs-giants-from-gondwana/And don't forget, Members can pay ONCE to see the dinos at a discounted rate, and then get in free over and over again for the duration of the exhibit!