Hopefully, this weekend will not be as wet as last weekend!  We have lots of great activities and places to go, not to mention some great giveaways, so don't miss out!  From Knothole tournaments to puppet shows, or maybe you would enjoy a good street fair or festival?  We have the scoop!
Friday
Check out our Frisch's Big Boy contest to win a $25 gift card.  Also, check out the coupon in this post to get a free cup of coffee with a breakfast sandwich purchase.  Friday only!
Saturday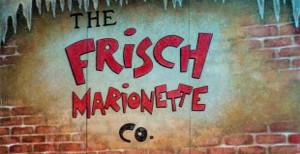 Family Summer Fun- Theatre Performances at Smale Park July 13, 4:00pm – 7:00pm Cincinnati Parks  Smale Riverfront Park Free, all ages Frisch Marionette Company performing the Variety Show with special guests Bullooney Puppet works, Cincinnati Circus and Explore Nature!
Second Saturday Street Faire July 13, 2013  10:00am-5:00pm Waynesville Merchants Association Historic Main Street Free Second Saturday Street Faire features artists, crafters, authors, entertainment, a cruise-in, ghost dinner & tour, a free book swap, historic storytellers and art contests with monthly prizes up to $400.  July 13th art contest is a Quick Draw competition where artists have 3 hours to complete their work.  Registration information if available from the website.
blue manatee children's bookstore and decafe — brighten up your morning with "Next Time You See a Firefly" author Emily Morgan, today at 11:30!
Join Bluegrass for Babies and Moksha Yoga Cincinnati & Northern KY today at the Cincinnati Museum Center from 11 to 1 for Healthy Kids Lab! The activity is free with admission to the Museum. All participants also receive a goodie bag containing a FREE Chipotle Mexican Grill Kid's Meal.
Madcap Puppets Fantastic Fairy Tales July 13, 2013 11:00am. Kenton Library Durr Branch Library – 1992 Walton-Nicholson Road Free Enter a world of fantastic fairy tales with Madcap Puppets! Registration required.
Brazee Street Studios –– SOG Summer Garden Series: Bees from 1:30-3:00pm. Learn about the honey bees at Brazee and make your own a one-of-a-kind glass bee!
 Brazee Street Studios –  SOG Story Time: Hooray for Fish! 1:30-2:15pm. Bring your little one to create art in glass art story time! Read "Hooray for Fish" by Lucy Cousins, then young artists will create a fish friend of their own.
All Weekend
Cincinnati Knothole City Tournaments Friday 6:30pm-9:00pm, Saturday and Sunday  9:00am – 5:00pm www.greatercincinnatiknothole.com and www.district4knothole.com  Crosley Field, Blue Ash free City knothole tournaments are here again.  Crosley Field and 11 other fields in Blue Ash.  For the next two weeks come cheer on the Future All-stars of the MLB!
Queen City Sausage Festival…Crafted Sausages, Grilled and Celebrated! ~ July 12-14 at Newport's Riverfront Levee ~ Start with Greater Cincinnati's passion for and appreciation of locally made authentic German brats, metts, and other great craft sausages including Italian, Andouille, and Chorizo.   Add in the region's best-selling independent sausage maker, Queen City Sausage.   Invite the area's best local food vendors and bring back Cincinnati's historic brewing traditions: Christian Moerlein, Hudy Delight and Hudepohl Amber Lager beer.   Provide a scenic view of the Cincinnati skyline, offer free admission, live lite-rock music, games, rides and plenty of relaxing shade and seating.  The result:  The Queen City Sausage Festival!  Friday: 5PM to 11PM.  Saturday: Noon to 11PM.  Sunday: Noon to 9PM.  Admission to the Queen City Sausage Festival is free including live, light-rock musical entertainment, rides for the children, and fun games appealing to all ages hosted by local charities.
Send a postcard to us June 1-August 31 Kenton County Public Library  Free Send a postcard to the library from your vacation and we'll display them in the library. Visit the website for branch addresses.
West Chester Craft and Vendor Sale July 13th 9-4 and July 14th 11-4 9230 Port Union Rialto Road, West Chester, Ohio 45069 1 Large combination of crafters and vendors all under one air-conditioned roof!  Everyone is welcome.
Visit the Swelter Stopper truck at Kings Island all weekend.  Cool down and enjoy the 'perfect serve' ice bar with drink samples.  Compete in interactive gaming with premium giveaways hourly.  Create fun videos and pictures with friends.  Dance on the Energy Dance Floor!
The Ohio Challenge July 12 & 13 Main festivities are 4:00pm to 10:30pm Check out the Facebook page at https://www.facebook.com/TheOhioChallenge Middletown Regional Airport/Hook Field/ & Smith Park Adults $4 (Walk-in) Kids under 13-Free or $10 a car load which includes parking and admission to the event plus free shuttle to and from. The Ohio Challenge in Middletown is a very family friendly and fun event.  This year over 37 balloons will be at the event including 2 special shape balloons.  There will also be balloon rides, tethered balloon rides, carnival, vendors, crafters, balloon glows, pyrotechnics, Team Fastrax skydivers and more!  Friday night features fireworks presented by Start Skydiving.  It's going to be a fun weekend!
Giveaways
We have lots of giveaways posted right now, so don't miss out:
Frisch's Big Boy $25 gift certificate