Until last week I thought Bluegrass for Babies was just a yearly bluegrass concert.  I had no idea that Bluegrass for Babies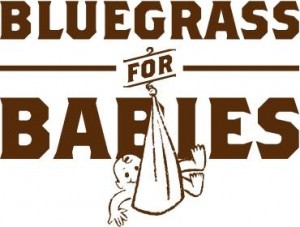 is so much more than that.  Bluegrass for Babies is an amazing non-profit focused on the wellness of the tiniest of Cincinnatians & Northern Kentuckians.  Matt & Anne Schneider began Bluegrass for Babies in 2009.  They were hoping to raise money for Children's Hospital after their son had to have emergency surgery at Children's when he was just days old.  The Bluegrass for Babies event quickly grew, and now there is a Bluegrass for Babies concert in Sawyer Point each year.  And Bluegrass for Babies has grown as a non-profit as well.  Now they are not just focusing on the yearly concert, but also on other fundraising events throughout the year in our community, such as the recent Midsummer Harvest hosted at Gorman Heritage Farm.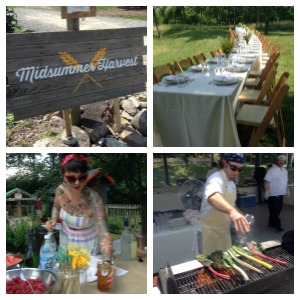 I was lucky enough to attend Midsummer Harvest where we wandered around the farm learning about different aspects of the farm while sipping cocktails served by Molly Wellman of Japp's, brews from Madtree Brewery, and wine from Oakley Wines and tasting food from a myriad local restaurants such as Senate, Table, BrewRiver Gastropub, Cumin, Bouquet and many more.  The event was focused on healthy, whole foods from local sources such as Green Bean Delivery, Carriage House Farm and Blue Oven Bakery.  While we ate we listened to Dr. Louis Muglia who is the Director of the Center for Prevention of Preterm Birth at Cincinnati Children's Hospital Medical Center.  I was fascinated by his talk, as there is so much about pre-term birth that I did know anything about.  I was glad to hear of all the research going on to learn more about saving babies who are born to early.  And Bluegrass for Babies is helping to facilitate this with their donations to Children's.
The Bluegrass For Babies benefit concert is going to be on Saturday,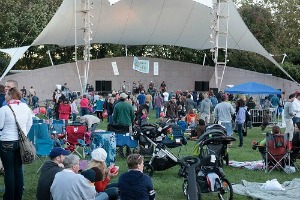 September 21st, so mark your calendars now!  You don't want to miss this fun event.  Pack up the kids and a picnic and spend the day listening to great bluegrass music from Wild Carrot, Comet Bluegrass All-Stars, and The 23 String Band while you chow on food from Green Bean Delivery, get yourself some Craft Beer if that's your thing and even take part in health screenings and learn more about healthy living for the whole family!  There's also fun for the kids…there will be six activity areas – The Farmers' Market, Healthy Home, Family Wellness, Music & Art, Movement, and a Special Needs Quiet Area.  So there's something for everyone at the Bluegrass for Babies concert!  Tickets for adults are $15 in advance or $20 the day of the event.  Children under 12 are free.  You can find more information at www.bluegrassforbabies.com or by calling (513) 262-0366.
Along with the Bluegrass for Babies concert, and the Midsummer Harvest, they also focus on helping parents raise healthy kids by providing resources, tools and events to help educate families. They just launched the Healthy Kids for a Brighter Future educational outreach program this year, which provides play-based activities to help families improve the health of their children.  This takes place at the Duke Energy Children's Museum.  To learn more about the great things going on at Bluegrass for Babies, check out their website or on  Facebook  and on Twitter.
Bluegrass for Babies raises money for the Perinatal Institute at Cincinnati Children's Hospital Medical Center (CCHMC),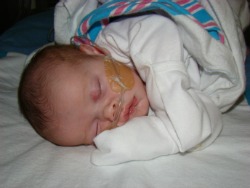 which provides care for infants before, during and after delivery.  I love the fact that Bluegrass for Babies is looking out for the little ones in our community!  And I love that they support the Cincinnati Children's Hospital so strongly.  We spent some time at Children's when Henry was just a week old.  He had RSV and spent a few days getting oxygen and medicine until he was strong enough to go back home.  I was in awe of all of the great things going on at Children's during our visit, and afterwards as I watched friends who had children receive care at Children's Hospital and heard their stories of receiving top-notch care from medical professionals who are focused solely on children.  I feel lucky to live so close to such an awesome medical center that is recognized nationally for their work wtih children.  So anytime I hear of someone wanting to give back to Children's like Bluegrass for Babies is doing, I want to jump right on that bandwagon!