The Cincinnati Museum Center has an AWESOME new exhibition going on right now: Ultimate Dinosaurs, Giants from Gondwana.  We were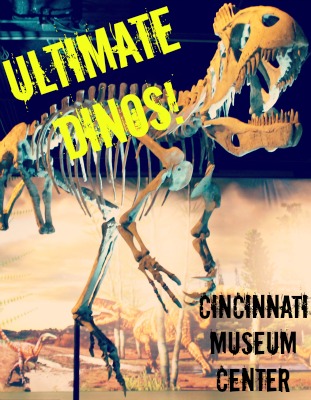 lucky enough to get a sneak peek of the exhibit last week before it opened, and I'm here to tell you that you need to take your family and get to the Museum Center to see these Ultimate Dinos!
Here's a description about the exhibit from the Cincinnati Museum Center:
Forget about the dinosaurs that you know – prepare for a whole new breed of beast! On June 13, Cincinnati Museum Center welcomes some of the largest and most unusual dinosaurs to have ever roamed the planet in the U.S. premiere of Ultimate Dinosaurs: Giants from Gondwana.
Based on groundbreaking research from scientists around the world, this exhibition reveals bizarre, unusual looking dinosaurs virtually unknown to North Americans because they evolved in isolation in South America, Africa and Madagascar. Ultimate Dinosaurs features three Augmented Reality (AR) experiences, used in creative ways to bring these specimens to life and illustrate the story of how a dynamic Earth with drifting continents affected the evolution of dinosaurs, from a Southern perspective. Surrounded by life-like environmental murals, the exhibition features real fossils, skeletons and 20 full-scale skeletal casts, many of which have never been seen before in the U.S.
Here's a list of reasons why we think that
Ultimate Dinosaurs, Giants from Gondwana is DINORRIFIC ::
It's fun for ALL AGES!  Kids of all ages…and adults too for that matter, will get a kick out of this exhibit, and you are sure to learn something new and be amazed.  My three year old was a little nervous about the big dinos at first, but he didn't let that stop him from having fun!
When you go to see the Ultimate Dinosaurs, be sure to grab a Dinosaur Passport…you can stamp your paper for each dinosaur that you see and learn about.  It's a cool way for kids to make sure they see everything!
MEMBERS who pay to visit the Ultimate Dinosaurs exhibit can pay once and then visit again and again for the duration of the exhibit!  I love this!  We'll be going again and again for sure!  And member prices are discounted…what a deal!
This exhibit has HANDS ON LEARNING & FUN for everyone!  The entire exhibit is very interactive…I mean, you can't go climbing on the dinosaur, but you can use nifty Augmented Reality technology to view the dino skeletons through a screen and see what they looked like when they were alive…this was sooooo cool!   There are also video games, iPad technology where you can learn more about the dinosaurs, and even activities that were simple enough for my youngest who is three.
This exhibit is LARGER THAN LIFE!  There are gigantic murals, a floor-to-ceiling movie screen on which you can watch dinosaurs in action, there are constant roars, and of course the life size dinosaur skeletons.

THERE'S AN APP FOR THAT

.  Yes, there's an app for the Ultimate Dinosaurs Exhibit!  It's pretty cool too…so if you can, be sure to download the Cincinnati Ultimate Dinosaurs app before heading to the museum.  It really brings the dinos to life!  It's FREE in the iTunes store.
After you see the exhibit head to the OMNIMAX Theater to see Dinosaurs: Giants of Patagonia, you will feel like you have stepped back in time and are among the dinosaurs!
Have I convinced you yet?  If not then you need a talking to from Giganotosaurus!  Pack up the family…boys and girls, old and young, and head to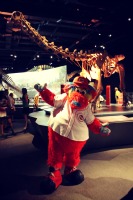 the Museum Center to be wowed by a trip back in time to visit the dinosaurs!   Follow all of the Ultimate Dino mania via @cincymuseum on twitter, using hashtags #UltimateDinos and #CincyRawrs.  Add your own instragram pics and tweets to the stream!
You can find the Ultimate Dinosaurs at the Cincinnati Museum Center from now until January 5, 2014.  Prices:  Member adults: $9, Member children: $7, Non-member adults: $15, Non-member children: $11,  Seniors (60+): $13