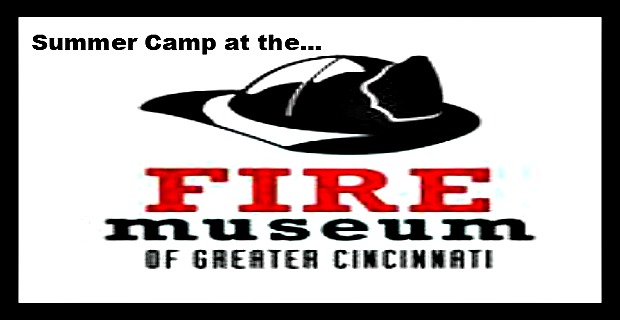 Are you still looking for great camps for your kids this summer?  We love the Cincinnati Fire Museum and are pleased to share that they will have their first summer camp this year!  Here what they have to say about it:
Summer is quickly approaching and it's time to register your young hero for our summer camp!  The Fire Museum of Greater Cincinnati, located at 315 W. Court Street in Downtown, will hold its first ever summer camp for young heroes, ages 8-12 this summer!

Fire Camp will encompass fire safety, fire science, community immersion and fine arts.  Your hero will enjoy fire fighter presentations, fire house visits, fire science experiment, Lego experience, lunch at Washington Park, Frisch Marionettes performance, environmental insight and much, much more!

Fire Museum of Greater Cincinnati's program will be an excellent opportunity to enjoy more than fire safety; it will be an experience of fine arts, community and interactive fun.  The Fire Camp will feature experienced fire fighters, artists and leaders in our community.

Fee for one week session – $125

July 23-26   9:00am – 4:00pm

Camp will be held in the Fire Museum with visits to Free Store Foodbank, Washington Park and Cincinnati Fire Houses.  Admission into the camp is on a first-come basis. Registration is available immediately.  Registration closing deadline is Tuesday, July 9, 2013.

For more information or to register, call the Fire Museum of Greater Cincinnati box office at 513-621-5553
The Fire Museum is open regular hours on Tuesday-Saturday 10am-4pm closed Sundays, Mondays & major holidays. Admission: Adults $8; Seniors $7; Youth age 7-17 $6; Children age 6 & under Free
Fire Museum of Greater Cincinnati, 315 W. Court Street, Cincinnati, Ohio 45202
(513)621-5553  www.cincyfiremuseum.com
When not blogging for Family Friendly Cincinnati, you can find Michelle writing at her personal blog, I'm Living the Good Life.