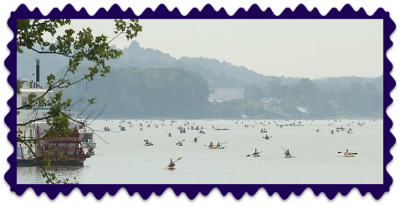 This year marks the 12th anniversary of one of the coolest events in our area (in my humble opinion).  Paddlefest will be rocking the riverbanks next weekend, June 20-22 at Coney Island and Sawyer Point.  I am feeling so bummed because I might not be able to attend any of the events this year, so I'm making sure I spread the word so everyone else knows about this cool event, and hopefully you can make it to one of the many fun things they have planned for the weekend.  And please don't stop reading this now if you aren't into paddling!  Paddlefest will entertain the whole family, no matter what your interests are.  Yes, the main event is indeed for those who love to paddle, but they will also have kids activities, live bands, vendors, and much more!  Last year we went to hear the music at Coney Island (so much fun!) and then two years ago Michael and I paddled with Ella in our canoe for the 8.2 mile trip (along with about 2,000 other paddlers).  It was quite an adventure!  This year Michael & my Dad are making the trek, and they always see friends along their way down the Ohio River.
Online registration for the canoe ride closes on JUNE 15, but you can register for Paddlefest on Friday until 9pm and on Saturday from 6:30am – 8:30am at Coney Island.
"Paddlefest has become a floating pep rally for the Ohio River," said Brewster Rhoads, Paddlefest chair. "It's a wonderful way for people of all ages and skill levels to celebrate, promote and protect our region's most important natural resource."
All About Paddlefest ::
Schedule of events:
Thursday, June 20 – The Kids Outdoor Adventure Expo  will hold a one-day event in a village type setting that is divided into four areas: Let's Splash, Let's Move, Let's Explore and Let's Go Green. Children of all ages can learn everything from how to paddle to how to cast and catch a fish. In addition, there will be many live animal presentations and interactive displays, cool science experiments, a petting zoo, bike safety clinic, how to camp out, yoga, Zumba, fitness boxing, food demos, fossils and boomerangs, how barges work on the river and much more.  The event runs in two sessions, morning 9:30 am – 12:30 pm and afternoon, 1:30-4:30 pm. Boat rides on the Queen City  Clipper on the Ohio River will also be available. Boat rides will begin at 9:30 am with the last ride at
3:30 pm. The cost to ride is $2.00 per person.
The Kids Expo is sponsored by the Hamilton County Park District, Green Umbrella, The Carol Ann and Ralph V. Haile, Jr./US Bank Foundation, General Electric and the Ohio Department of Natural Resources.  The event is free and open to the public.
Friday, June 21– The Ohio River Music Concert & Gearfest  will take place from 9 am – 11:30 pm. Early registration will be open at 9 am with a variety of activities that include exhibits, bike and boat raffle, classes on Lake Como, boat demos, basket raffle, wooden kayak show, gear swap and camping. The events take place throughout the day starting at noon. Bands will begin playing at 5:00 pm. This year's bands include: Jake Speed and The Freddies, Wheels, The Lewis Brothers, Jeremy Pinnell & the 55's and headliner Reverend Peyton's Big Damn Band.
Registration closes at 9:00 pm. Parking is $4.00 per day and $6.00 for both days. The event is free to the public.
Saturday, June 22 – "Pedal it and Paddle it" or just pedal or just paddle. For those who want to experience both paddling and bicycling you can do both. The bike ride is a scenic  route along the actual Ohio River Trail that leads to Coney Island (8.9 miles on bike and 8.2 miles by boat) for the pedal/paddle group or to Lunken Airport and Armleder Park for all others (19.5 miles). Cincy Pedalfest registration opens at 6:30 am at Yeatman's Cove with the Pedal/Paddle group leaving no later than 7:15 am. The 19.5 mile ride will leave at 8:00 am for all others. Registration for paddlers also opens at 6:30 am at Coney Island. All paddlers will launch from Coney Island beginning with the amateur racers at 7:15 am. The mass flotilla of paddlers will begin putting in the water at 8:00 am after the racers. The last boat leaves Coney Island no later than 9:15 am. The river is closed to all barge and motorized traffic from 7:30 am to 12:30 pm.  After all bicycling and paddling events have concluded all participants will culminate at the Gold Star Chili Finish Line Festival at Yeatman's Cove. The festival runs from 10:30 am – 2:30 pm with entertainment by Hickory Robot, exhibitors, displays, bike demos, great food, beer and fun. 
Registration info and schedules for Paddlefest are available at http://www.ohioriverway.org/paddlefest/
Registration info Cincy Pedalfest is available at http://cincypedalfest.org/2012/
**I received all of the above information from the good folks at Paddlefest, for more details please see their website: http://www.ohioriverway.org/paddlefest/
When not blogging for Family Friendly Cincinnati, you can find Katie writing at her personal blog, www.thelittlethingsjournal.blogspot.com.