I know all of the kids are so very excited to be out of school for the summer, and we want them to have fun over their break, but it's also important to keep the gears moving in their mind over the summer.  I'm not saying we need to sit down and do flashcards each night (although a little flash card work is in order for my munchkins this summer…thank goodness there's an app for that!).  I'm going to be keeping my kids' brains sharp by learning through our adventures this summer, AND by participating in our local library's Summer Reading Program.  The Summer Reading Programs offered by local libraries, your children's schools & even some businesses are a great tool for keeping children excited about reading over the summer!
Do your kids resist reading during the summer?  Or are you too busy having fun to squeeze in time for a good book?  Here's a few times during the busy summer days that you could encourage a little bit of reading:
During Adult Swim at the pool
While waiting at the doctor's office for those summer checkups
On long drives
Right before bedtime…this is the perfect way for the kids to wind down after a busy day
Is technology taking over your kids summer?  Try limiting their time on their touch screen of choice by limiting their time on technology.  For instance, I felt like the beginning of our summer was filled with too many hours of munchkins zoned out on video games, so our new rule for summer is that they can only play video games on rainy days (and even then there will be a timer set!).  This has been a huge help, and now they are spending their time playing outside, playing board games, creating amazing things with LEGOs, and of course…READING!  And be sure to sign them up for a summer reading program, many offer prizes for reading!
Summer Reading Programs in Cincinnati & Northern Kentucky ::
KCPL Summer Reading Club ~ Children ages 2-10 can visit any Kenton County Public Library location to pick up a reading log. Once children read, or their parents read them, five books, they can pick up a prize. Once children reach 10 books read, or listened to, they earn the annual KCPL summer reading t-shirt. They also can enter a raffle to win more prizes, including the grand prize of a Nintendo 3DS XL. Children's illustrator and author David Catrow designed the T-shirt art.  Read more about KCPL's program in this post: Summer Reading for Fun & Prizes at the Kenton County Public Library
Clermont County Public Library ~ FREE CONEY WITH SUMMER READING ~ Library Helps Kids, Teens Earn Prizes for Summer Reading  Just signing up for Clermont County Public Library's Summer Reading Program will earn the first 3,000 participants a coupon for a free coney from Gold Star Chili. It's one of many exciting prizes offered for children and teenagers who take part in the program.   "We want children and teenagers to continue reading and learning even after they hear the final school bell of the summer," said Adam Baker, Communications Manager for Clermont County Public Library. "Our program is a great way to keep those young minds sharp and let them have a lot of fun too."   The library's Summer Reading Program begins June 8 and ends July 20. During the six-week program period, participants are asked to track their reading and reading-related activities online. There are age-appropriate activities included in the program and library staff members are available for assistance. The online program also alerts readers when it's time to visit the library and collect a prize.   This year's Summer Reading Program includes "Grow a Little Reader" for ages 0-4, "Dig into Reading" for ages 5-8 and 9-11 and "Beneath the Surface" for ages 11-18.   Ages 0-11 earn a prize for every six activities they complete up to three prizes. After that, they're eligible for a grand prize. Ages 11-18 earn a chance to win one of 10 iPod Touch prizes for every activity they complete. Special prizes are also being added this year, which include discounts to the State Fair, State Parks and more.   "We've offered Summer Reading for nearly 50 years and we work hard to make it bigger and better each year," Baker said. "Whether you're a new or returning participant, you're in for a real treat this summer."   Participants can sign up on the library's website, www.clermontlibrary.org beginning Saturday, June 8. For more information, you may contact any of Clermont County Public Library's 10 branch locations.
Dig Into Reading  ~  Clermont County Public Library  10 locations in Clermont County.    June 8 – July 20    0-18    Clermont County Public Library's 2013 Summer Reading Program is offered exclusively online. Stop by your local branch for more information or visit our website, www.clermontlibrary.org.  Grand prizes include an iPod Touch for ages 11-18; a Kindle Fire for ages 5-11; and a travel art easel for ages 0-4.     www.clermontlibrary.org
Dig Into Reading  ~  MidPointe Library System    June 1 – July 31    Birth-Adult    "The MidPointe Library System's always popular Summer Reading Program launches Saturday, June 1st with the theme of "Dig Into Reading!" and this two month celebration offers great books, fun prizes and exciting events!
The MidPointe Library System has made participation in this annual event easier than ever!  The youth program is divided into three age groups: birth through pre-Kindergarten, children entering grades Kindergarten through 5th, and young adults entering grades 6th – 12th.  Starting Saturday, June 1, visit any MidPointe Library location to pick up a reading log or go to www.MidPointeLibrary.org to download your own at home.  Participants can come into the Library to reward their accomplishments and pick up their prizes! The Program concludes on Wednesday, July 31st and grand prize winners for each age level will be awarded at every location shortly thereafter.  Exciting performers and programming are always a highlight to the Summer Reading Program and this year is no exception!  From balloon art to fossil digs – there is something for everyone.  For a complete listing of all Summer Reading Program events, visit www.MidPointeLibrary.org's event page or pick up a schedule of events with your reading log.
Summer Reading Program fun isn't just for kids!  This year, the MidPointe Library System will be offering an Adult Summer Reading Program at every location.  Participation is easy!  Adults aged 18 and up can fill out a raffle ticket for every book they read through July 31st.  Audio books count too!  Participants have an opportunity to win a prize each week, with a grand prize giveaway of an ereader at the conclusion of the program.  Raffle tickets are available at every Library location and can be downloaded from www.MidPointeLibrary.org as well.  Print at home and bring the completed ticket in to one of the three MidPointe Library System locations for your chance to win!  www.MidPointeLibrary.org
Dragons, Dreams and Daring Deeds  ~  Mason Public Library    Tuesday, May 28th until Friday, August 2nd at 2:00pm    2-12    An opportunity to have fun at a wide variety of programs and earn prizes for your reading efforts.    www.masonpl.oh.us
Joust Read ~   Mason Public Library    Tuesday, May 28th until Friday, August 2nd at 2:00pm    must have completeed 6th through 12th grade    An opportunity to win prizes for your summer reading- including books assigned by the schools.    www.masonpl.oh.us
Power Up… READ! This summer at the Public Library of Cincinnati and Hamilton County ~Summer Reading program offers superhero theme, cool prizes June 1-July 31  It's time to "power up" your reading skills and earn prizes for participating in the 40th annual Summer Reading Program at the Public Library of Cincinnati and Hamilton County. This year's theme, Power Up…Read!, offers all sorts of excitement by spotlighting "superheroes."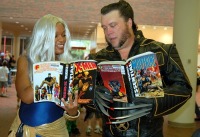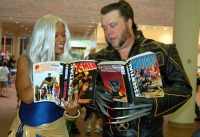 Just like our caped crusader friends who have a diverse range of super powers, you, too, can find your niche within the Summer Reading Program. Whether you're an adult reading to a small child or perusing your favorite magazine or a teen reading a graphic novel or a kid discovering chapter books— it all counts! Plus, there are a variety of ways to read. Download eBooks to your tablet, listen to audiobooks on your smartphone, or enjoy having a book in hand.
The more you read the more prizes you win — plus chances to win grand prizes such as Reds tickets courtesy of the Cincinnati Reds, a $25 Gold Star gift card courtesy of Gold Star Chili, a LeapFrog LeapPad1 Explorer tablet courtesy of PNC Bank, a Samsung Galaxy Tab 2 7.0 courtesy of Newman's Own Foundation, or a $100 Kroger gift card courtesy of The Kroger Co.
Summer of Savings ~  Boone County Public Library – all six locations    June 1 to August 1    Infants to adults    Boone County Public Library's theme this year is Summer of Savings – it's part of the year-long Earn Spend Save program at the Library which is funded by a FINRA grant. All ages can participate and earn prizes for time spent reading. Kids can earn a book and earn entries in one of the age-appropriate grand prize drawings. Teens can earn a book and earn chances in weekly drawings for gift cards and a grand prize drawing for a color Nook. Adults earn entries in weekly drawings for magazine subscriptions and a grand prize drawing for a color Nook. Children are encouraged to choose their own reading materials and read for the fun of it, but what they are really doing is keeping their reading skills sharp so they'll be ready for school in the fall. The Library's summer reading program is designed to help prevent summer reading loss in children and encourage reading for all ages.    www.bcpl.org
If you'd like to add a Summer Reading Program to the post, submit your information here:  Summer Reading Program Form.
For more ideas about how to prevent "Brain Drain" this summer, see this post by FFC's Susan J.