I have a little quiz for you….Do you like gourmet burgers?  Do you like to try new beers?  Do you like to sneak away from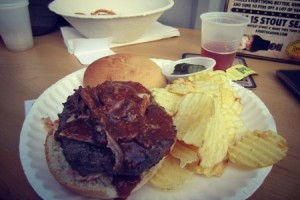 the munchkins for occasional date nights?  Do you enjoy live music?  If you have answered YES to any OR all of these questions, then I have a great idea for a date night for you!  Burgers & Beers at the Party Source in Bellevue, Kentucky is a perfect place for you!  For $15 per person you get a gourmet burger, and samples of 6-10 of their best craft beers.  In  my opinion, that's a much better price than some restaurants!  And you get to listen to live music while you dine on their patio (no indoor seating, so inclement weather cancels the event).  We went last fall and had a really great time trying different beers and a burger combination that I never would have thought to put together.  The burger was delicious, and I got to try some new beers that I never would have imagined trying.  It was fun to try new things!  And as I said, they have live music, which we always enjoy.  They also serve vegetarian option, but you must request it when you check in to the event.  The event is very casual and lasts from 6-8pm, which was a perfect time for us…enough time for my husband to get home from work without rushing, and then we were home in time to put the kids to bed.  I'm getting too old for late nights 😉
 Here's some information about Burgers & Beers from the Party Source:
***If you've been to Burgers & Beers in the past, you should still read through this, as some things have changed.
First off, we are beside ourselves with excitement and anticipation for year #4 of Burgers and Beers. Our craft beer buyer at the Party Source and creator of this event along with his team has worked very hard on themes that are just too good to miss out on. But we must explain what B&B will look like this year.
THE SAME:
The team is still mostly in tack with Grover, Danny and Yatzy at the lead, the price won't change either still steady at $15 and that includes the beers, the gourmet burger and the wonderful atmosphere with live local music by the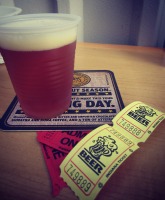 Turkeys, The Tillers and Tupelo Honey. It's is still on Thursdays from 6-8pm. Yes, we still will accept walk-ups but stress the ease of signing up and pre-registering online at www.thepartysource.com under beer tastings. We will continue to cook  vegetarian burgers upon request, but those requests must be made when you sign in with Grover. We will accept reservations and walk-ups up until 6:45. Burger service stops and the grill will be turned off at 7pm sharp.  Perhaps you're thirsty, but not hungry. Or, perhaps it's just the opposite. No worries, this event has you covered. The cost is just  $10 for beer only or $5 if you're coming just for a burger, the live tunes and the good looking staff. Finally, the raffle will remain. During Burgers and Beers we will come around and offer up the chance to win beer, beer swag, tickets to events and other cool stuff. The Party Source uses this raffle money for a number of things including supporting local charities.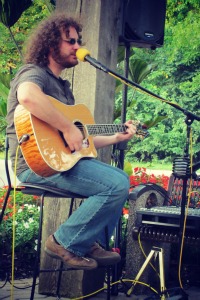 SLIGHT & MAJOR CHANGES:
Burgers & Beers is now a "shine" only event. This means that Burgers and Beers events this year and in the immediate future will only be held outside when the weather is good. With the construction, the expansion and the "retirement" of  EQ, simply put; if it rains or we have extreme heat, there is nowhere to go. The decision to cancel this event will be made by the B&B staff by 4pm the day of the event. You might be asking yourself "well how do I know if B&B is cancelled?" Give us a call at the store and a friendly TPS staff member will fill you in or check your facebook account and check in on the status of B&B if the weather looks like it could go either way. "But what about  a refund? How do I get my money back if I am pre-registered?" Don't panic! The Party Source website is more than capable to refund your card immediately. Other than that, it is game on. We can't wait to have you on the patio for live music, gourmet food and the best craft beer the Party Source offers.
For a line up of themes, burgers & musicians (and to pre-register for an evening) for June & July see their website: https://www.thepartysource.com/beer_tastings.php  You don't need to pre-register, you can walk in and pay as well.  The lineup for August – October will be released soon.  You can also find the Party Source on Facebook.
The Party Source is located at 95 Riviera Drive  Bellevue Kentucky 859-291-4007