Update – The Bayou Fish House is no longer in business.  We were bummed when they Closed!
I wasn't sure whether to call this post "Bayou Fish House" OR "Where to find Amazing Fish Tacos".  I settled on the mo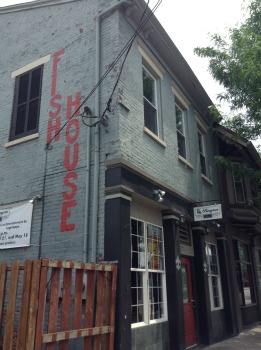 re proper of the two titles.  The Bayou Fish House in Newport has some AMAZING fish tacos.  And other tasty grub too.  I kept seeing "check-ins" on Facebook of friends who were eating at the Bayou Fish House and my curiosity was piqued.  What was this great seafood joint that so many people went to in order to cure their seafood cravings?  I needed to check it out!  So when my sister asked me to go with her for lunch I dropped everything and went.  And now I have a new favorite place to eat fish tacos and other seafood treats.
If fish tacos aren't your thing, they have other choices too!  The menu at the Bayou Fish House is quite simple, but in addition to what is on the menu each day, they have daily specials.  To keep track of what their specials are you can check the fish-shaped sign on the wall at the restaurant or follow Bayou Fish House on Facebook, they keep their fans up to date!  We had conch fritter as a special one day…and they were YUMMY!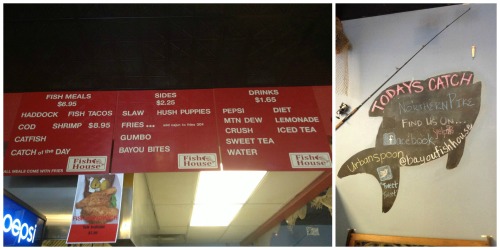 So far in my visits to Bayou Fish House I've tried the fish taco, conch fritters, fries, hush puppies and the bayou bites.  Every single thing I've tried has been delicious.  I've already mentioned that the fish tacos are my favorite, well the bayou bites come in second place…deep fried jalapenos slices…wow!  I've not tried the gumbo yet, but my brother says it's really good.  I'm also a fan of catfish, so I can't wait to try theirs.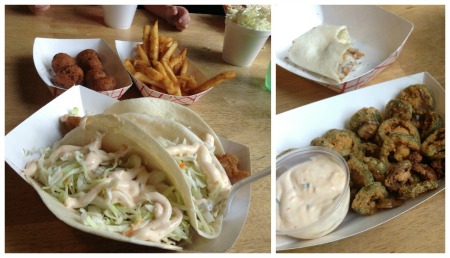 Henry LOVES the fish tacos as well, I have to point out that I've tried to feed him fish tacos at other restaurants and he's refused.  He only eats them at Bayou Fish House. There's no kids menu at Bayou Fish House, I just order for my kids right off the menu which works for us, and they always like the food, and have even tried new foods since we've been going there.  Henry says that the bayou bites make his tongue be "on fire" yet he eats them every time…
On Wednesdays, from 5-8pm, you can get a FREE kids meal with every meal purchased. Dine in only, 12years old and under, for example: mom and dad each buy a meal, their 2 kids eat free.  There aren't kid's meals on the menu, for Wednesdays only they just get a smaller portion of the regular menu item: 2 pieces of haddock + a piece of bread + fries.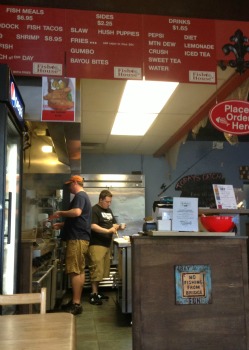 Bayou Fish House is a small restaurant, with only four tables (two with tall stools instead of chairs) but they will be opening up the patio this summer.  If you get there and the place seems crowded you can always grab a carryout meal.  Every time I've been there I've noticed a steady stream of folks grabbing food to go.  The owner and employees at Bayou Fish House are great people…so friendly, and they get that food ready in a jiffy.  The restaurant is kept clean and tidy, and the kitchen is wide open,  so you can watch as your food is made.  I love going to restaurants where you can see what's going on in the kitchen…I find it entertaining to watch chefs at work.  And the prices are pretty great too…you get plenty of food and won't break the bank.
So if you have a hankering for fish tacos, head over to Bayou Fish House in Newport and get your fill!
Bayou Fish House is located at 527 York Street in Newport.  You can find them on Facebook and on Twitter.  http://www.bayoufishhouse.com   859-491-FISH