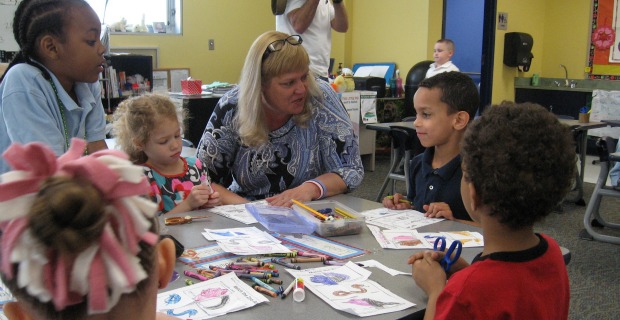 I'm a big believer in the power of preschool. I laid out some of the main reasons in this post, if you need convincing.
Am I preaching to the choir? Great. Let me tell you about the Cincinnati Preschool Promise.
This joint initiative got kicked off a couple of weeks ago by United Way's Success By 6®, The Strive Partnership, a team from Leadership Cincinnati Class 36, and many business and community leaders. Their mission is pretty simple:
A chair for every child in a quality preschool.
Who's going to argue with that? No one, I hope.
But beyond that: Who's going to help turn this worthy mission into reality?
So far, a bunch of important people have signed the promise. Local school administrators, churches, political leaders, teachers — the ones you'd expect.
But I also believe parents should be a major part of the equation. We're the ones who decide whether our kids attend preschool, for how long, and where they go. We have a front-row seat for the outcomes, both short- and long-term, of quality preschool education. We know better than anyone why preschool matters so much.
How this Preschool Promise comes to life isn't 100% clear yet. The organizers have said they want to focus on funding highly rated preschools for kids in low and middle-income families.
I'm on board. I signed the promise online. I also liked their Facebook page. Not much, but it's a start.
Will you join me?
---
Looking for a preschool for your child? Check out our directory of Greater Cincinnati preschools, which is searchable by zip code, education method and more.
When she's not blogging at Family Friendly Cincinnati, you can find Susan writing at her blogWorking Moms Against Guilt.