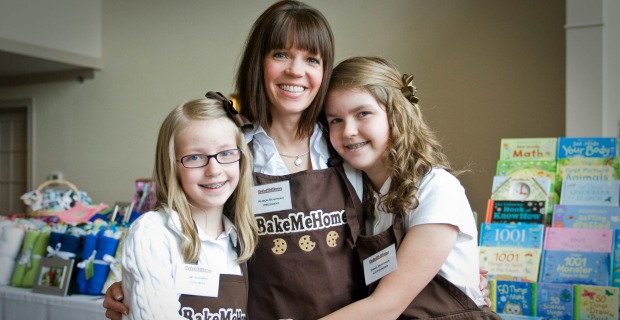 I'm a total sucker for kids who want to help others. Whether it's lemonade stands for charity or selling dishtowels to pay for heart surgery, there's just something so pure and good about child-driven philanthropy.
That's why my ears perked up when I heard about this: Bake Me Home's 5th annual Boutique fundraiser this Saturday, April 20. (Scroll down for Event Details.)
Bake Me Home is a non-profit organization started by Amy and Emma Bushman when they were 7 years old (they're now 11). With mom Alison Bushman helping out, these girls serve families from 14 agencies in the greater Cincinnati area — including homeless shelters, food pantries and battered women's shelters.
Here's how they do it–and prepare for goosebumps, my friends:
We love making homemade cookies with our Mom, and we want other kids to spend time with their moms and enjoy eating cookies in their new home. So we give each family everything they need to make their own homemade cookies, all in one of our "Bake Me Home" cloth grocery bags (because we saw a show about how plastic bags are bad for our Earth).
The girls fill each bag with:
$20 Kroger gift card
Jar of homemade Oatmeal Chocolate Chip Cookie Mix
Mixing bowl
Mixing spoon
Baking sheet
Potholder
Spatula
Toothbrushes (Family pack of 6) and a tube of toothpaste
Family Cookbook with recipes donated by the Nutrition Council of Greater Cincinnati and printed by Mt. Washington Presbyterian Church
Colored pencils (for kids to decorate the cover of their Family Cookbook)
"We know a lot of families are having a hard time right now, and we hope baking cookies together will help cheer them up," the girls say. Oh yeah–they also send cookies to deployed military personnel as part of their Bake Me BACK Home program.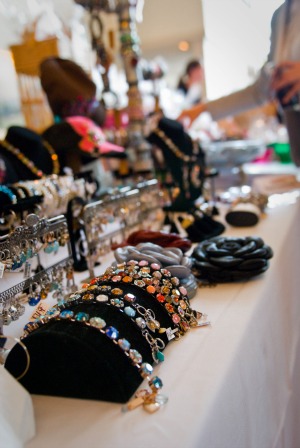 ARE YOU KIDDING ME?!
Bake Me Home is a truly amazing effort and fills me with hope. If you feel the same, I hope you'll support the organization by attending their Boutique fundraiser.
This event will feature specialty products from 20 local vendors, food samples, complimentary soft drinks and a cash bar. Cooking demonstrations will be held with Amy Tobin will at 5:00 pm and Renee Schuler at 7:00 pm. Live music will also be performed by Ben Waltz.
Event Details
Bake Me Home Boutique 2013
April 20, 4 to 9 p.m.
Coldstream Country Club, 400 Asbury Road, Cincinnati, OH 45255
Admission is free – donations appreciated
For more information, visit the Bake Me Home website, "like" them on Facebook  or follow their tweets @bakemehome.
When she's not blogging at Family Friendly Cincinnati, you can find Susan writing at her blog Working Moms Against Guilt.