Covington Dining – Goodfellas Pizza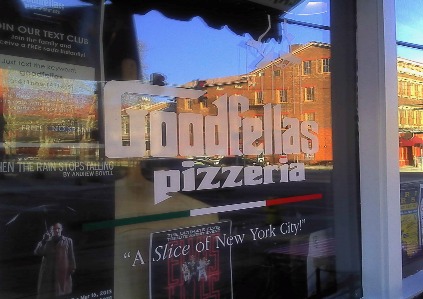 We are pizza addicts.  There, I've said it.  My kids could easily eat their weight in pizza in a single sitting if permitted.  However…they are still particular about their pizza.  The crust has to be just so, the sauce can't be too this or not enough that, the toppings have to be tasty and plentiful.  So even though none of us would ever turn down a slice of pizza, we always want it to be the tastiest pizza we can get.
As soon as we heard about Goodfellas Pizzeria in Covington's Main Strauss we wanted to check it out.  Everyone who had tried it said it was absolutely delicious…and they were right!  My husband and I surprised the boys one evening and ordered a Goodfellas extra large pizza (22 inch pizza!), a mushroom and pepperoni calzone and a breadstick on the way to pick them up from their Artstop class at The Carnegie.  The delicious smell filling the car as we waited for their class to be over with was too much to bear and we actually dove into the calzone while we were waiting for them.  Yes, it was THAT good!
Tender crust, just enough filling, lots of cheese, and the sauce is phenomenal.   Perfectly seasoned, golden brown…Mmm, my mouth is watering just thinking about it!
Needless to say, the boys didn't actually get to taste the calzone that night.  They weren't disappointed though, because there was definitely enough pizza and breadstick to go around!
We ordered the extra large pizza and I wondered for just a minute when ordering if that was going to be enough (see above comment about my kids eating their weight in pizza..I  was NOT exaggerating.)  It turns out we had plenty and the boys got to have leftovers for lunch the next day.  The slices are easily the size of my head or a smidge bigger…and did I mention delicious?  So good!   The breadsticks are roughly the length of one of those extra large pizzas so you get one REALLY BIG breadstick that you can then break up into several "normal" sized ones.  Again, I worried..should we have ordered two?  Well, they were delicious, so they would not have gone to waste but we definitely had plenty.  We also grabbed a salad to compliment our pizza and it was fresh and tasty as well.
Do you still need a reason to try out Goodfella's Pizzeria?  How about this one: you can buy all of this  deliciousness by the slice!  That's right…walk in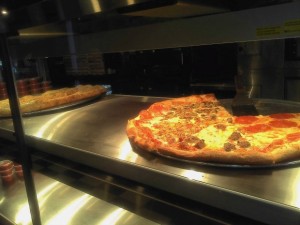 for lunch or dinner and grab a slice or two, a breadstick, maybe even a salad of your own.  The pizza is right there in the window, waiting for you, being all fresh and tasty, anytime you want it.   They even have a lunch special: slice of pizza, breadstick, and a soda for $6.00.  There's a counter along one wall with seating so that you can enjoy your pizza fresh from the oven, if carrying out doesn't interest you that day.  Come spring they will have outdoor seating on the sidewalk in front…I can't wait for that!
What if you are just out for a date night with your sweetie?  Then Goodfella's is still your place.  Just head into the Wiseguy Lounge before or after your pizza and enjoy a cocktail and some great conversation.
Looking for something a little more exotic than your average Pepperoni or Just Cheese pizza tonight?  Try some of their specialty pies like 'The Immigrant' (tomatoes, spinach, ricotta, onion) or 'Fuhgetaboutit' (every available topping!)  They also have subs and desserts…and definitely don't forget those calzones!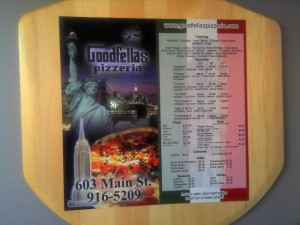 If you haven't figured it out by now I'll say it once and for all…Goodfellas is definitely a must if you are a pizza lover.  Head down to Main Strauss and check them out, you won't regret it!
Goodfellas Pizzeria is located at 603 Main Street, Covington, Ky.   Hours of operation are:
Sunday through Wednesday: 11 AM to 11 PM
Thursday through Saturday: 11 AM to 2:30 AM
You can find menu information and more on their website: www.goodfellaspizzeria.com.  They are also on Facebook: www.facebook.com/goodfellaspizzeriacovington