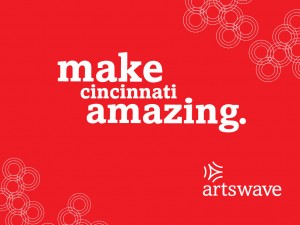 It's baaaack! ArtsWave's Macy's Arts Sampler Weekends return THIS Saturday for their second installment. We're talking TONS of FREE arts activities taking place all day long all over the city.
If you are heading out, here our some of our picks. You can view the complete schedule for March 2, here.
Macy's Arts Sampler Weekend "Must Haves"
School for Creative and Performing Arts
108 West Central Parkway |Cincinnati, OH
(513) 363-8000
2:00 – 4:00 PM Make Your Own Stage Blood!, A Day of Circus, Entire Family and Hero Design Company Mask-Making
2:15 PM CCM Prepratory Dance Department Entire Family
3:00 PM The Art of Stage Fight Choreography Entire Family
Music Hall
1241 Elm Street, |Cincinnati, OH
(513) 744-3344
1:00 PM Heroes and Villians: An action packed concert Entire Family featuring Cincinnati Symphony Orchestra, Cincinnati Ballet, May Festival and Cincinnati Shakespeare Company & Cincinnati Opera
Visionaries and Voices
3841 Spring Grove Avenue |Cincinnati, OH
(513) 861-4333
1:00 PM Family Hands-On Craft Entire Family
Elberon United Methodist Church
704 Elberon Avenue, |Cincinnati, OH
(513) 471-1912
10:30 AM Music for Youth in Cincinnati Entire Family
Kennedy Heights Arts Center
6546 Montgomery Road, |Cincinnati, OH
(513) 631-4278
11:30 AM World Percussion Workshop Entire Family
Oxford Community Arts Center
10 South College Avenue |Oxford, OH
(513) 524-8506
2:00 PM Origami Meets the Price is Right! Entire Family
3:30 PM Celtic & International folk music performance Entire Family
_________________________________________
**Create Your Macy's Arts Sampler Weekend "To-Do" List
**Upload the Free Macy's Arts Sampler Weekend smartphone application for iPhone and Android. Find Sampler events that match your interests, map the routes and create schedules.
As you can see, Macy's Arts Sampler Weekends are chock-full-o-fun. It's a lot to take in so keep watching the FFC website and Facebook/Twitter accounts where we'll be sharing information about various events and activities taking place over the course of the Sampler Weekends. We'll be spotlighting organizations as well as putting some of our top arts picks into our Weekend Update Posts the weekends of  Mar 2 and April 13. You can also follow along on ArtsWave's Facebook page and the ArtsWave Twitter account.