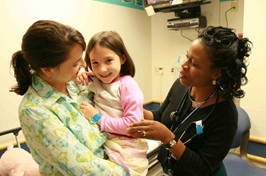 Parents of children with special needs in the Cincinnati area can get information, access to resources and networking opportunities at the Remarkable Families Symposium this Friday (March 1, 2013).
Held at Xavier University's Cintas Center from 9:00 a.m. to 3:30 p.m., the symposium will focus on the theme "Remarkable Families: Building Resiliency in Families Raising Children with Special Needs."
Cincinnati Enquirer sports columnist Paul Daugherty will give the keynote address. Married with two children, Daugherty has been involved in disabilities advocacy for several years.
The Remarkable Families symposium offers 18 one-hour workshops to help parents learn their strengths, network with others and discover things that will help them to become more resilient and thrive. A resource fair features more than 50 vendors and service agencies specializing in medical support, recreation, community programs and services, home health and financial planning. Cincinnati Children's Center for Infants and Children with Special Needs is cosponsoring the event.
The symposium is completely handicapped-accessible. Free parking is available. Registration is $40 and includes breakfast, lunch and snack.
Some scholarships toward the registration fee are available. For more information, contact Tom Knestrict at 745-3703 or by email at [email protected].