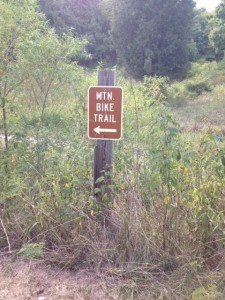 Get on your bike and ride is a line from one of my favorite Queen songs and I think of this song every time we head over to the west side of Cincinnati and to the Mitchell Memorial Forest. This park is part of the fabulous Hamilton County Park District. Mitchell Memorial Forest has two main reasons to visit – a fishing lake and mountain bike trails.
We go for the latter. My husband found out about this park — it was a great find. The is toted as the first and only legal mountain bike trail in Hamilton County. Both of my kids and my husband own mountain bikes. They've only used them to ride up and down the road or on a paved bike trail so the thought of going off road definitely appealed to all three of them. I don't have a mountain bike – my bike is a sweet three speed girlie bike. Perfect for a nice flat paved bike trail; totally wrong for off road, dirt covered, root growing, rock showing bike trail. But that's ok, I run it. I'll explain later.
When you arrive at the park, you'll first pass the fishing lake on the right. Right past that, there's a turn off for a large shelter, a playground and the rest rooms. Keep on going on the main road and there's a parking lot on the left with a picnic grove. You'll see a park board which will show you the trail maps and any announcements. This is also the entrance to the trail. At the end of this parking lot there's a water pump which we use to refill our water bottles at the end of our ride.
There are two bike trails available – Trail A or Trail B. Trail A is the easier of the two and is about 3.9 miles. You go up, you go down, you go around and then you do it all again. A few things we learned after our first time riding the trail: Bring water. Bring more water than you think you need. Wear helmets. Be prepared to walk some of the trail unless you and your kids are very very fit and strong. My kids do a fairly decent job (they're 10 and 7) riding most of the trail except for the steeper hills. My running behind my daughter means I can help push her when she needs a boost and I get an amazing workout to boot.
You can access Trail B about 2.5-3 miles into Trail A. I'm not sure how long Trail B is, but the sign for the Trail B turn-off states it's strenuous. Trust me when I tell you, you will get a great workout for you and your entire family by doing Trail A as your starter course.
Because this is a mountain bike trail don't expect pavement – I wasn't joking above when I stated you will be riding (or running) on dirt, rocks, leaves, roots, etc. — anything you'd find out in nature. Because of this, when it rains, etc., there is a chance that the trails will be closed. For this reason, you'll want to check out their Facebook page to check to see the current status.
Weather permitting, the trails are open dawn to dusk. The park is located at 5401 Zion Rd. Cleves, OH 45002. We thought it was a little tricky to get to, so be sure to google this before you head out.
Have you and your family ventured onto the trails? What's your best tip before going off roading on bikes? Share with us below.