Hear Ye!  Hear Ye!  Calling all fairies, princess, pirates, jesters, dragons and all other mythical & magical folks…
Join your friends on Saturday, October 6th from noon – 4pm in the MainStrasse Village for the Wee Folk Fairy Fest – it's an afternoon of fun & magic!  Boys & girls, ladies & gentlemen, old & young (and in between)…everyone is welcome, and costumes are highly encouraged!  According to the Wee Fok Fairy Fest's facebook page: "the concept of the Festival is based on the imaginative notion that for one day a year, Mainstrasse opens a portal from the Fairy World where Fairies and other magical beings come through to play with humans".
My family loves this event, it's not a huge overwhelming festival where you worry about losing your kids or your mind.  It's a sweet & intimate celebration of magic & imagination.  They love the parade, the dancers, the revelry, and all that jazz.  Mama likes when Captain Jack Sparrow strolls through the promenade 😉
If you have children with wild imaginations be sure they get to go to this festival!
Here are all the details: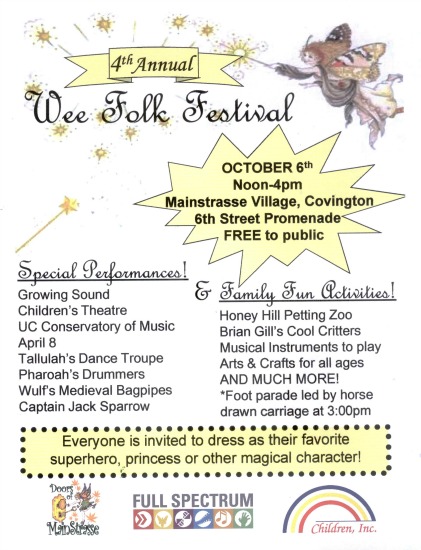 While you are at Main Strasse, stop for a treat at the Candy Bar (read all about this fun store in Shannan's post), or do a little shopping for your little fairy princess at Stoney's Gifts,  or get some cool monogrammed gifts at MK's Totebags & Monogramming, or stop for a bite to eat at any of the great restaurants on Main Street.  My choice would be to take some burgers home from Zola (yum!).  Sara told us all about her fun day with her girls in MainStrasse Village, so if you're looking for more ideas check it out!  You can spend the entire day in MainStrasse Village having so much fun!