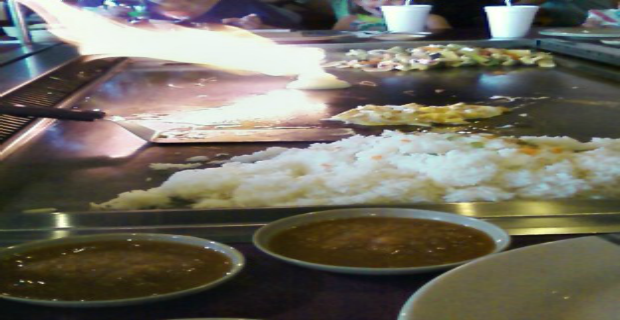 There are date night restaurants and there are family friendly restaurants.  Although I love the atmosphere of 'date night' restaurants, I hate for my kids to ruin another couple's special evening, especially if they have sprung for a sitter.  They are 3, 5 and 9 and can get a little restless.  So, when Saturday night rolled around and we were trying to decide where to dine, we had to focus on family friendly.  For us that means some place loud with a kiddie menu.  But, I did not feel like going to a kiddie friendly restaurant!  My husband had just finished working 2 weeks straight with many 12 hour days in the mix.  I wanted grown up food!  And I wanted it served by a grown up!  Possibly cooked by a grown up!
We decided on Miyako Sushi & Steakhouse off of Buttermilk Pike in Crescent Springs Kentucky.  It is loud.  The hibachi grill is entertaining.  And they have grown up food.
When we arrived at Miyako on a Saturday night at 6:00, it was a little crowded.  The hostess told us our wait for the hibachi grill would be 30 minutes, but it was more like 15.  To pass the time, my oldest son and I watched the sushi chefs prepare sushi while my husband hung out in the foyer area with our youngest two.
The grill tables seemed smaller than other places we'd been, and we shared our table with another family of five.  When the chef came out he checked our orders and started cleaning the grill.  I knew it was going to be a hit when our five year old beamed "That guy is awesome!!" and all he had done was quickly lay out 20 little sauce dishes and fill them.
We got to see all of the standard hibachi grill tricks……smoking volcano, fire on the grill, flying food, egg toss in the hat.  Guess who caught a bite of zucchini on the first throw?  This momma!  My nine year old tried but didn't quite make it.  He had a blast though.   Oh, and my husband loved it because the chef squirted a long stream of Sake into his mouth from across the grill.  We try to bring a little class with us where ever we go!
The children's portions seemed very large. Our youngest two children ordered hibachi chicken with salad, rice and hibachi vegetables.  Our nine year old opted for the hibachi shrimp, soup, rice and vegetables.  Everyone got a couple pieces of shrimp as an apetizer.  Our oldest declared the dinner "Delicious!" and the other two were too busy eating to talk.
My husband and I also had two small orders of sushi, which were delicious.  Sushi is half price on Tuesdays from 4:30pm to 10:00pm.  They also serve dessert, but we opted for our favorite coffee shop, Reality Tuesday, for a sweet treat after dinner.
If you are looking for a family friendly restaurant that still makes you feel like a grown up, definitely go to Miyako Sushi & Steak!
**** UPDATE:  Watch for coupons in your Val Pak Mailer!  I just found one for $5 off of lunch and $10 off of dinner.  Make sure you read the fine print and enjoy! ****
When not blogging for Family Friendly Cincinnati, you can find Michelle writing at her own personal blog, I'm Living the Good Life.