Last week Amy Q. and I took the kids to Woodland Mound to visit Parky's Wetland Adventure.  It has been one HOT HOT HOT summer, and while Amy Q. and I fortunately both have pools we can take our children too, we were looking for a new adventure for them.  Woodland Mound was about a 20-25 minute drive from our homes in Fort Wright, but after spending the day there I can say it is well worth the long drive.
This splash park was great fun for the kids, we had to drag them away at the end of the day, they did not want to leave.  Parky's Wetland Adventure consists of water spraying and splashing every which way, from giant flowers, turtle's mouths, and frogs as well.  There's also a giant tree with water slides for the children, and a separate area for the younger tots.   The ground is partially padded, and partially concrete.  And even though there was a crowd there that day, there was plenty of water to go around.  All of the kids were quite happy and the mamas even let themselves get splashed to cool off.  My favorite thing about the splash park was that it was all fenced in, with only one way out, so that it was easy to keep my kids from sneaking past me and escaping.  There is also a beautiful view of the Ohio River from the splash area.  The kids splashed, played and made new friends.  They loved all of the creatures squirting water and the water slides.
The cost to go to Parky's Wetland Adventure is $2.50 per child (2-12), $6.00 (3) children (2-12), and $20.00 season pass wristband (Valid at all wet play areas for entire season).  I paid $8 for my four kids, and I think it was a great price for a day of fun.  We packed picnic lunches, but there is a snack bar where you can purchase the usual snack bar fare…hotdogs, soft pretzels, and the like.  They had two picnic areas, and both were shaded, which was nice on such a hot day.  They also had plenty of benches throughout the splash area for parents to sit on, and they had some shaded areas as well.   The hours are 11:00 a.m. – 7:00 p.m. Daily (weather permitting) from May 26 until September 3, 2012.
Woodland Mound has more to offer than just the splash park..we did not have much time to explore the park, but I cannot wait to go back and check out the walking trails and playground.  There is also an 18 hole disc golf course there.
Other cool splash parks around town that we've written about on Family Friendly Cincinnati:
Smale Park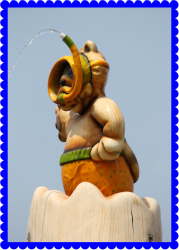 Have you been to Woodland Mound Park or Parky's Wetland Adventure?  What's your favorite thing about this park?