A Family Friendly Day in Lebanon, Ohio
This week it has been hot, hot, hot so we were looking for something to do to cool us down.  We've been swimming quite a bit this summer so even that option didn't motivate my girls.  We also just missed our opportunity to see one of the free summer movies offered at the Rave's Free Family Film Festival but since I mentioned going to a movie, the girls jumped on that idea.  Seeing a movie in an air conditioned theater sounded like a great idea.  Living in Mason, we are very close to Lebanon and I heard that you could see new release movies at the Colony Square Cinemas 7 for only $5 ($5 admission is the flat rate for all shows). So, I thought, let's give that a try. Madagascar 3 Europe's Most Wanted, here we come.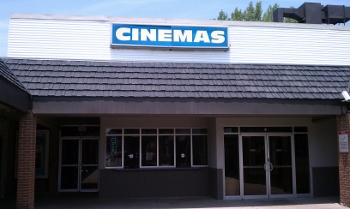 Located in a strip mall just outside of  historic downtown Lebanon at 726 East Main St., we almost missed finding it.  The cinema is set back from the main strip mall in a courtyard area. We actually had to ask someone where it was so as not to loose faith in our trusty GPS who has steered us astray on more than one occasion (we always seem to forgive her though).  Keep in mind, you are not going to a big name movie theater.  This is a small scale movie theater but I really liked going  because 1) it was cheap, 2) it was clean, 3) it reminded me of what going to the movies felt like when I was a kid, 4) the employees were friendly and 5) it was only $5 (I may have mentioned that already).  After checking out the concessions, I got the girls a kids' snack tray to split ($4.75) which included popcorn, a small drink and some candy.  When we entered the smaller theater, I was pleasantly surprised since they had stadium seating – granted there were only 4 rows of seats but this made the theater a more intimate space.
We all enjoyed the movie and after my oldest said, "that's a great place to see a movie and you don't have to spend a lot of money".  Right on girl!   If you visit, make sure you bring cash since they don't accept credit cards.  We also didn't get a chance to look at the other theater rooms and I think some of them may be larger than the theater we were in and I'm not sure if they have the stadium seating in those spaces.  We'll definitely have to return to Colony Square Cinemas 7 to find out.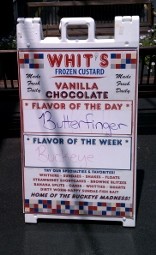 After the movie, we decided to make a stop in downtown Lebanon to get a tasty cool treat.  We opted for Whit's Frozen Custard. It was delicious.  They make their frozen custard fresh daily.  It is creamier and thicker than any soft serve I've ever had and it is so good.  K opted for chocolate, S for vanilla with sprinkles (no surprises there) and I tried their flavor of the week, Buckeye.  It had just enough peanut butter flavor and the best part was enjoying chunks of peanut butter and chocolate in the custard.  A kids cup/cone is $2.25 and a regular scoop is $2.50.  They also have  sundaes ($3.25 for one scoop and $4.25 for two), "Whitser" which is custard blended with a topping (small $4, medium $5 & large $6 – my Buckeye already had toppings mixed in so I feel like I really got a deal). They even have a Kids' Menu with selections such as Dirty Worm, Fish Bait & Happy Sundae  (you can download their menu to read more about all they have to offer).
Enjoying a movie and delicious frozen custard made us all feel cooler on a hot summer day.  Plus visiting Lebanon is always a plus since there is so much charm in this small town.  The Golden Lamb, Lebanon Mason Monroe Railroad, antique shopping, Warren County Historical Society, Lebanon Theatre Company, Lebanon Raceway, Village Ice Cream Parlor, Doc's Place, and the upcoming Warren County Fair  (July 17-21) are even more reasons to visit Warren County – "Ohio's Largest Playground".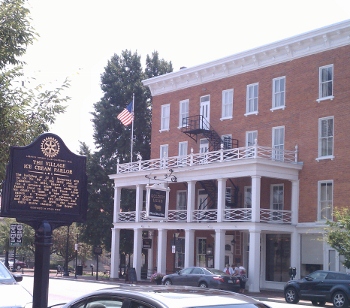 If you have any favorite places or things to do when you visit the City of Lebanon, leave a comment below so we can keep on sharing.
When not blogging for Family Friendly Cincinnati, you can find Kristin writing on her personal blog, MasonMetu (from me to you).