A Weekend Away for Parents ::
Bardstown and the Bourbon Trail
Writer's Note ::  I wrote this post from a perspective of a parent's getaway because that's what it was for us, a quick weekend away, but you could make it a family adventure as well.  Bardstown is fun for the whole family, and the Bourbon Trail tours we went on had children attending.  We went to 5 of the 6 distilleries on the Bourbon Trail during our weekend away, but we actually visited Jim Beam with our kids on the way home from our family's summer vacation, and while we didn't take the whole tour that day, we did walk around the grounds and watch a video, and the kids found that interesting.
 Kentucky is known for many things, such as: horse-racing, bluegrass music, fried chicken, and of course, bourbon.  95% of the world's bourbon comes from the state of Kentucky.  There are eight major bourbon distilleries in the state of Kentucky, with six of those being on the "Bourbon Trail".  My husband and I are not what I would call bourbon afficianados, but we do enjoy drinking it.  So as a gift to our husbands, my sister-in-law and I planned a weekend away that included tours of bourbon distilleries in Kentucky and an overnight in historic Bardstown.  Let me just tell you that my husband (fabulous father of four children) was quite pleased with this gift…a night away from the munchkins AND bourbon tasting, what more could he ask for?  While we love traveling with our kids, we had never taken a trip without them before this, so it was quite special!  I thought that I would share some details about our trip with the FFC readers in case you are looking for a nice inexpensive getaway or even a day trip to learn more about bourbon.  This was a great, quick getaway that did not break the bank.
Planning your trip ::
I highly recommend you start planning your trip by checking out the Bourbon Trail website and the Bardstown website.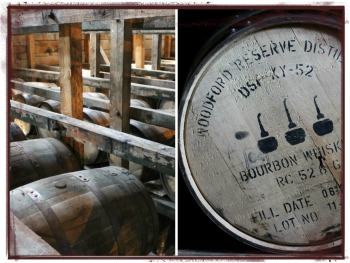 Both sites were instrumental in helping us figure out a plan of action for our weekend.  The Bourbon Trail site is a great resource, with details about each of the six distilleries on the trail, maps, directions, times and more.  And the Bardstown website offers links to restaurants, accommodations, things to do in town, and more.  After spending quite a bit of time on these sites and talking to everyone who was going on the trip about what distilleries they wanted to visit I was able to come up with a good plan.  I printed maps, made reservations, and even scoped out restaurants for dinner while in Bardstown.  Another resource I used in planning our trip was Facebook.  Strange but true.  I often use Facebook to poll my friends to see what their thoughts are when planning trips.  I asked my friends what distilleries we should definitely visit on our trip and the most popular answeres were Woodford Reserve and Maker's Mark.  As usual my friends were spot-on!  Both distilleries were beautiful and the tours were impressive.  I also googled each of the B&B's that we were considering to read the reviews on the places.
The Distilleries ::
I bragged in the last paragraph that I made a "plan of action" for our trip, and I did indeed do this, but after we arrived at the first distillery too late for the tour (and the next one started an hour later) we sort of scrapped our original plan and decided to visit a different distillery next, but the nice thing is, if you are going to the distilleries listed on the Bourbon Trail website, each gift shop at the distilleries has printed directions to all of the other distilleries.  So they can always point you in the right direction.  And don't forget to pick up a passport at your first stop and get it stamped at each of the distilleries.  Once you visit all six distilleries and get a stamp at each you can mail your passport in and get a free t-shirt!  On our weekend away we actually managed to visit 5 of the 6 distilleries that are a part of the bourbon trail, but we did not take a tour at each one.  I think that trying to go on six tours in one weekend would have been too much, but I know that some people have done that.  We took tours at the distilleries that interested us the most (because of our favorite bourbons).  Each tour that we went on was interesting, educational, and best of all…they all ended with a bourbon tasting.  Most of the tours are free, you can look for more details about cost on their websites (linked below).  Woodford Reserve did charge for their tour, but it was a reasonable price. 
Some of the bourbon distilleries are close to each other, and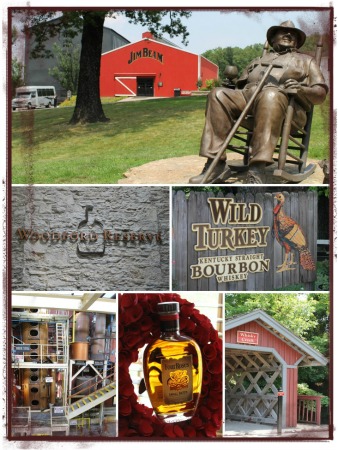 some are so far off the beaten path that you may start to wonder if you are lost.  I enjoyed the drives on country roads and seeing parts of Kentucky that I had never seen before.  Most of all I enjoyed the car ride spent gazing out the windows at the beautiful scenery and  chatting (uninterrupted) with adults with nobody asking how many more minutes until we arrived.  Here is a list of the distilleries with links to their websites so you can learn more about them.  You might want to call ahead to see if the distillery will be operating when you visit.  When we chose to visit a couple of the distilleries (Maker's Mark and Four Roses) were not operating but they still offered tours.
Jim Beam (Just a note, Jim Beam is offering tours right now, but not of the actual distillery. In the fall of 2012 they will have a new tour and new visitor's center)
These are just the distilleries that are on the Bourbon Trail.  There is also Bufflao Trace and the Barton 1792 Distillery as well as many micro distilleries in the state of Kentucky.
Bardstown ::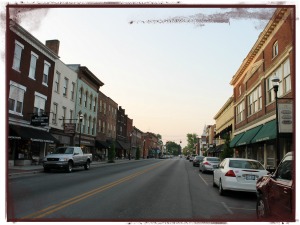 After we spent our day visiting distilleries we headed to Bardstown for dinner and an overnight.  Bardstown is a small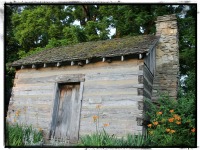 city with a rich history that is Kentucky's second oldest city (1780).  When you enter the town you feel like it hasn't changed much in the last couple of centuries.  After dinner we enjoyed a walk around town, visiting the very old cemetery behind the jail, and a school house built long ago.  Then we walked around town until we found ice cream for dessert.  Not many of the shops were open, because this small town closes up shop around 5pm so the good folks of Bardstown can go home and spend time with their families.  This is not a hustling and bustling city.  Carraiges take people for tours around town, lending to the old-timey feel, and everyone who lives and works there seems to know each other.
Jailer's Inn, Bardstown ::

There are quite a few choices for accommodation in and around Bardstown, as you can see on their website.  There are hotels, campgrounds, and B&B's.  After much deliberation, we decided to stay at the Jailer's Inn in Bardstown.  Once we arrived we were so glad we decided to stay here.  I mean, what could be cooler than spending the night in a haunted jail?  And the rooms were so beautiful, filled with antiques & gorgeous furniture and old fashioned decorations.  The innkeeper was a delightful woman named Dixie who knew every in and out of Bardstown.  She gave us a review of each of the restaurants in town, kept the inn spick and span and met every one of our needs the entire time we were there.  She made that haunted old jail seem rather homey and sweet.  The family who owns the county jail has obviously worked very hard to refurbish the jail into the beautiful B&B that it is today.  They took care to preserve the history as well though.  While some of the old jail offices & cells have been turned into gorgeous rooms for guests, the back part of the jail has been preserved.  They even have an authentic cell that you can sleep in for the evening, with bunkbeds and water bed.  When you go into the old jail part of the inn it is as if you are stepping back in time (and being incarcerated!).  The bunks are still in the cells, along with artifacts that have been found in the building over the years.  The heavy iron bars still protect the public from any criminals that might be hanging out in the cells.  The jail was operational from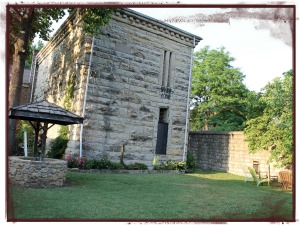 about 1819 until 1987.
My favorite part of the Jailer's Inn was the garden behind the jail (see picture to the right).  Where once the gallows stood (where twenty two people were hung for their crimes) now stands a wishing well.  The garden is surrounded by a tall stone wall that keeps the garden cool and there are gorgeous flowers blooming everywhere.  We spent the evening chatting in the garden and then enjoyed a delicious breakfast of Strawberry French Toast on the veranda in the garden the next morning made by the amazing Ms. Dixie.  After breakfast she took us on a tour of the jail, and told us some of the history behind the building and gardens.
Dinner in Bardstown :: Old Talbott Tavern

There are many dining options in and around Bardstown.  As I said, our inn-keeper Dixie told us about all of the great restaurants around town, and family members had told us their favorites as well.  After going back and forth on all of the options we ended up deciding on Old Talbott Tavern because it was the closest to the Jailer's Inn (and we were tired from a long day of driving, touring & bourbon tasting).  The food they served was down-home cooking, and very good.  We had dishes like fried catfish, pork chops and burgoo.  We left happy and full.  And the Inn and restaurant were lovely, another example of the old-town feel that Bardstown has. 
 Other Places of Interest near the "Bourbon Trail" ::
Rebecca Ruth Candies (where the Bourbon Ball chocolates were created)
The Birthplace of Abraham Lincoln
Have you ever planned a fun weekend getaway for the parents?  We'd love to hear about it in the comments section!
When not blogging for Family Friendly Cincinnati, you can find Katie writing at her personal blog, www.thelittlethingsjournal.blogspot.com.