We here at FFC LOVE the Cincinnati Rollergirls so when they asked us to help get the word out about their Junior Roller Derby Camp for girls ages 8-17, we were all about it!  Check out all the details below. If you think your daughter might be interested, they are holding an information session THIS Monday at The Skatin' Place at 7pm.
 —————————————————————–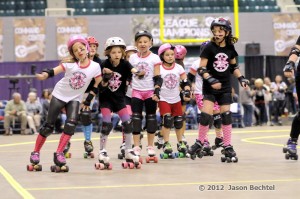 Do you know an 8- to 17-year-old girl who dreams of becoming a rollergirl? She can start to make her dreams a reality at our junior roller derby camps this summer!
Two weeks of roller derby camp will be held this year: June 25-28 and July 16-19. The camps will run from 4:30-6:30 p.m. daily at The Skatin' Place. Girls may attend just one or both weeks of camp.
Introduction to Roller Derby Camp will be led by retired Cincinnati Rollergirl Kathy Kissing, who is the head coach of the Cincinnati Junior Rollergirls, the area's first junior roller derby team for girls ages 8-17. She will be assisted by other current and former Cincinnati Rollergirls.
During the camp, skaters will learn the basic skills and rules of flat track roller derby from current and former Cincinnati Rollergirls. Blocking will be positional only (no hitting). Some skating experience is helpful, but not required. This camp is for all skating levels, from beginner to advanced, and girls of all shapes, sizes and backgrounds are encouraged to attend.
There will be an informational meeting on Monday, June 18 at 7 p.m. at the Skatin' Place to answer any questions you may have regarding the camp. There will also be a Cincinnati Junior Rollergirls practice going on at this time for you to observe.
Camp details
What: Junior Roller Derby Camp – Session 1
Who: Girls ages 8-17
When: 4:30-6:30 p.m. June 25-28
Where: The Skatin' Place, 3211 Lina Place, Cincinnati, OH 45239 (off Colerain Road)
Cost: $75 per skater due the first day of camp.
What to bring: Helmet, knee pads, elbow pads, wrist guards, mouth guard and quad roller skates (NO INLINES!). Quad skates will be available for rental if campers do not have their own.
Registration: Click here to download the Junior Roller Derby Camp registration form. Registration deadline is June 20, 2012.
Information:: Email [email protected]