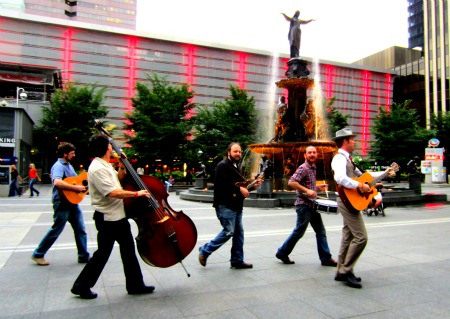 It seems to me that all through the year Fountain Square is a hopping place to be.  And the summer is probably the most hopping season of all!  There are movie nights, live music, a farmer's market and more!  My family loves to spend time downtown, and we especially love FREE fun downtown.  Last night we headed downtown for American Roots on Fountain Square to hear Daniel Dorff and Jake Speed & the Freddies play music.  I packed a few snacks and water bottles and we had a little mini-picnic on the square (there was also a bar selling adult beverages and local restaurants where you can order carry-out food).  Despite the cool weather and cloudy skies there were still quite a few people out for the evening to enjoy great live local music.  I can't wait to go down again for music…or perhaps a free movie on a Sunday?  Or maybe to shop at the market on Tuesdays…so many cool things to do on Fountain Square!  And parking is easy, there's a pay-lot under Fountain Square with entrances on Vine Street and Walnut Street.
Here's some of the fun things going on down at Fountain Square this summer, if I've missed an event please leave us a comment so folks know about it!  (Click on the links below to find out more details about each event).
Mondays ~Happy Hour (live bands & DJ's) 5-8 pm
Tuesdays ~ American Roots Music 7-10 pm
Wednesdays ~ Reggae Wednesday 7-10pm
Thursdays ~ Acoustic Thursdays 11:45 am – 1:15 pm &  Salsa on the Square 7-10 pm
Fridays ~ Midpoint Indie Summer Series 7-11pm
Saturdays ~ Self Diploma's Beats 7-11pm
Brought to you by Strauss & Troy, come buy fresh produce, baked goods, lunch, flowers and more.  Tuesdays 11am – 2pm.
FUN Events on the Square:  ::
July 3rd ~ Fireworks on the Square 10pm (after American Roots Music)
July 20 ~ Freaky Friday Water Balloon Toss – Noon
July 27 ~ T-Shirt Market (all kinds of cool Cincy-themed shirts for sale!) 11am  – 11pm
August 10 ~ Indie Craft Market
August 17 ~ Freaky Friday Ice Cream Eating Contest
Movies on the Square ::
Sunday evenings beginning at 7pm.  Pack up the family and some blankets & chairs and head to the square for a free movie!  Snacks & drinks will be sold.  I'm a sucker for free movies…you can imagine how much it costs for me to take my four children to the movie theater!  We cannot wait to head downtown for a free movie!
2012 movie schedule (from the Fountain Square website) ::

June 3: Kung Fu Panda II
June 10: Dolphin Tail
June 17: Father of the Bride II – Father Day's special!
June 24: The Adventures of Tin Tin
July 1: An American Tail
July 8: Where the Wild Things Are
July 15: Judy Moody & the Not Bummer Summer
July 22: Angels in the Outfield
July 29: Air Bud – Bring your dog to the Square night!
August 5: Puss in Boots
August 12: The Goonies
August 19: Hugo
August 26: The Smurfs
What does your family do for fun on Fountain Square?!