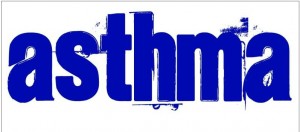 Did you know May was Asthma Awareness Month?  I'll be honest.  I didn't.  This may not sound unusual until I tell you that I have a child who has asthma and another one with allergy induced asthma.  What's the difference in the two?  It's in the name.  A's is only prevalent when it's spring and her allergies are crazy.
If you live in this area, you probably know someone who has asthma.  It crosses all boundaries.  Young and old alike have it.
Asthma, by definition,  is a disorder that causes the airways of the lungs to swell and narrow, leading to wheezing, shortness of breath, chest tightness, and coughing.
My personal definition is a breathing disorder that can cause parents extreme panic and anxiety.  That's just me though. 🙂  I have spent many nights listening to my girls breathe.  I've also been to the ER at Cincinnati Children's Liberty Campus numerous times. Asthma can be very scary to a child (or adult).  It's heart wrenching to watch your child struggle to breathe.
According to research from the Allergy and Asthma foundation, Cincinnati ranks #52 (out of 100 cities nationwide) in the "most challenging places to live with asthma".  Thankfully, Cincinnati also has a better than average ranking for the number of asthma specialists.  I have found this to be true!  Our girls have a great allergy and asthma specialist at Cincinnati Children's.
As I said, I'm not expert in asthma.  So, I thought I'd provide a few links to sites that can give you more information.
Please take a minute to look over the sites and get familiar with signs and symptoms.  Someday I hope we find a cure for asthma.   Not to sound like a commercial for television, but asthma isn't slowing my girls down.
When not contributing to Family Friendly Cincinnati, you can find Kandi at Mommy Confessions Blog