As we wrote earlier in the month, we are big fans of the March of Dimes and the work they do.  As such, we wanted to share information about a contest that is being held as a March of Dimes fundraiser –> Becoming Mom is inviting moms to vote on pictures of pregnant bellies in its "Beautiful Belly Contest" to support the March of Dimes.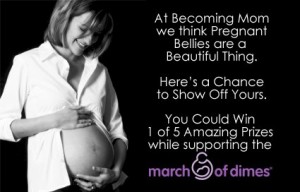 Voting will happen between May1st and May 12th on Becoming Mom's Facebook Page. For every vote, Becoming Mom will donate $1 to the March of Dimes. The winner will be announced on Mother's Day.
From the news release –>
Dawn Bierschwal, Owner and New Pregnancy Spa Start Up Consultant, says "At Becoming Mom, we think pregnant bellies are a beautiful thing and we wanted to give the moms of the Tri-State a chance to show theirs off for a chance to win some great prizes while also supporting the March of Dimes. We're looking for bellies of all shapes and sizes and we're hoping moms will get creative and have some fun creating their photos… no professional photographer necessary!"
More information is available on the contest at www.becomingmomspa.com/bellycontest.