I love to explore all of the smaller cities & neighborhoods around our area, there are so many hidden gems in Cincinnati and Northern Kentucky.  Today I bring you a list of family friendly things that my family loves to do in the city of Fort Thomas!
Play at Tower Park
The playground at Tower Park is super-cool (as my kids would say).  It's quite large as far as playgrounds go, with lots of cool equipment, some of which looks like towers and castles, which my kids love.   I like that there's spots for Mamas to sit and watch the kids run & play.  Tower park also has tennis courts, hiking/biking trails, sand volleyball courts and more!  Check out their website for more details.  There are also shelters where you can have a picnic lunch while you are playing at the park.
Eat at Cobblestone Cafe

After your children have worn themselves out at Tower Park you can grab a bite to eat at Cobblestone Cafe.  They are a great little sandwich shop with indoor and outdoor dining.   They also offer carry-out if you want to pick up your sandwiches and dine at the park!   They have wraps, salads, specialty sandwiches and build your own sandwiches.  They also have soups, chili & special meals for the munchkins.  Cobblestone is family-owned and operated and their prices are quite reasonable.  My favorite sandwich is the Twisted Ham & Cheese – it's delicious.  They are located at 654 Highland Avenue and are open Monday – Saturday 10:30-3:00 (Tuesdays until 7pm).  You can reach them at: 859-781-3000.  If you are in the mood for soup & a sandwich for lunch head to Cobblestone.  They are just a few minutes away from downtown.
Shop for Books at The Blue Marble Children's Bookstore

When I was little I remember my mom taking me to the Blue Marble Bookstore and it was such a treat.  I'm a bit of a bookstore addict now as an adult, and I especially love those that are locally owned and operated.  The employees at Blue Marble are so helpful and nice.  The man who was working at the front counter during our visit today helped me find just the right books for Ella & Max just from me telling him what they like to read, how old they were, what their interests were, and what their reading level was.  The Blue Marble Bookstore is bursting at the seams with every imaginable children's title and a few fun book-themed toys (Sam was so excited to find a Leonardo the Terrible Monster stuffed animal).  They have a train table to entertain the kids, and also a "Goodnight Moon" room, that is set up just like the book, and you can sit in a big armchair and read the book to your child while they look for all of the things from the book in that room.  So cool.  We left with a book for each of the children, and I didn't feel like I broke the bank buying them.  The Blue Marble is located at: 1356 South Fort Thomas Avenue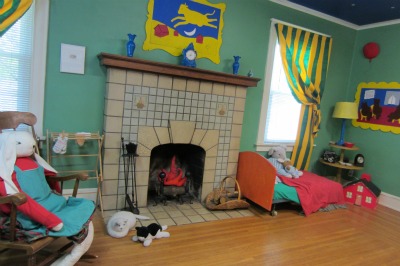 More Fun Things to do in Ft. Thomas:
The Farmers Market (Starts May 2nd – read more about it at Cincinnati.com)
Highland Hills Park – great hiking trails!  And they also have a dog park for your furry, four legged friends.
Sweet Lucy's Cakery – She makes the most divine cake pops!  Order some for your family today 🙂
915 Pub & Grill – awesome burgers!
Want to catch a play?  Visit the Village Players – they put on awesome shows, and even have a few shows each year for the children!
And be sure to check out the Ft. Thomas Website for events going on thoughout the year!
Did I miss anything?  What is your favorite family friendly thing to do or place to go in Ft. Thomas?!?