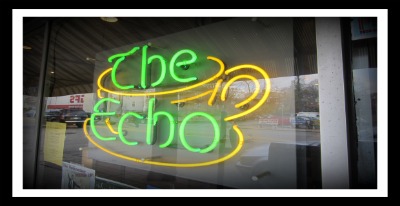 Sometimes when I'm looking for a new restaurant to try I'll throw a question out there on Facebook to see what people recommend.  A while back I asked folks for recommendations on where to go for breakfast, and The Echo in Hyde Park seemed to be a popular response!  My criteria were that I wanted it to be a locally owned restaurant that was family friendly and had good prices.  The Echo met all of these criteria, plus the food was delicious!
The Echo, which opened in 1945 is a favorite neighborhood restaurant in Hyde Park.  And even though I'm from the other side of the river, when I walked in the doors I could tell from the atmosphere that it was one of those places where friends met for coffee & the servers knew people by name.  Even though I'd never been there before I felt at home and comfortable.   The waitresses were so friendly & the service was fast.
The menu is mostly filled with  good old fashioned home cookin' foods, but they also have a good selection of healthier options!  I have a weakness when I go out to breakfast though, and I tend to ignore the healthier options 😉  The menu had so many tempting choices, it took me forever to choose.  I finally decided to have the Eggs Benedict and they were very yummy.  Sam had pancakes and they were yummy too (I had to taste them for this post!).   Amy Q. had a classic breakfast…eggs, sausage, hash browns and toast which she enjoyed.
I loved having a leisurely breakfast with Amy Q. at the Echo, and I cannot wait to go back to try their lunch or dinners!  By the way, they also sell beer and wine, which is a plus if you are having an evening out.  They serve Breakfast & Lunch Sunday – Wednesday and Breakfast, Lunch & Dinner Thursday through Saturday.
Have you eaten at the Echo Restaurant?  What is your favorite thing to eat there?
The Echo Restaurant ~~ 3510 Edwards Road, Cincinnati OH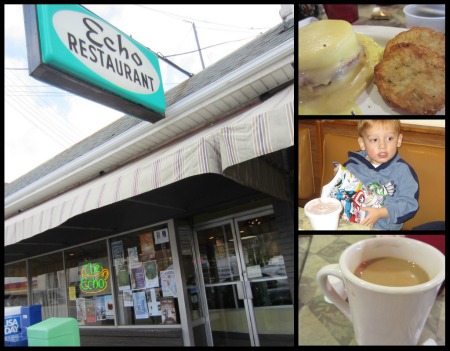 Hours:
Monday – Wednesday: 6 a.m. – 3:30 p.m.
Thursday: 6 a.m. – 8 p.m.
Friday – Saturday: 6 a.m. – 9 p.m.
Sunday: 7 a.m. – 3:30 p.m.