We don't normally post news releases, but this dance-off benefiting Cincinnati Children's just needed to be shared.  If you have a moment to vote, I am sure the families, and CCHMC, would greatly appreciate your support.
The Meyer family and the Goodlett family, both of Forest Hills, are moving and shaking in Primrose Schools' national Family Dance-off to fight childhood obesity by promoting physical activity. Their moves have landed them in the finalist round of the third annual Family Dance-off video contest, where a grand-prize win for our own dancing stars includes a donation of $30,000 to Cincinnati Children's Hospital Medical Center and a $5,000 cash prize. Second prize wins $3,000 and a $20,000 donation, while third prize wins $1,500 and a $15,000 donation. Simply by making it to the finalist round, the Meyer and Goodlett families have each already earned a $1,000 donation for Cincinnati Children's Hospital Medical Center.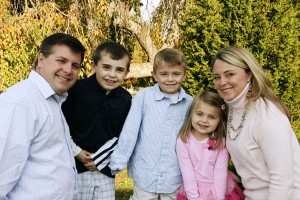 The Meyer family first learned about the Family Dance-off through the hospital, where the family spent a lot of time when oldest son Max was diagnosed with Aplastic Anemia, a life threatening disease where bone marrow does not produce sufficient new cells to replenish blood cells. He subsequently underwent months of blood transfusions, chemotherapy and ultimately a bone marrow transplant from his younger sister, Ellee, who was 17-months-old at the time. "Max has endured a long and difficult journey," said Kristin Meyer, Max's mother. "It is because of the amazing care and support from the staff at Cincinnati Children's that he is now back at school and playing his favorite sport, basketball. We are forever grateful to all of the amazing people at the hospital and remain in awe of the miracles they perform day after day for children like Max."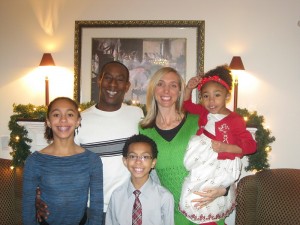 For the Goodlett family, learning about the Family Dance-off was a musical twist of fate. Both mom Jenny and dad Jay, parents to Megan (age 12), Nate (age 9) and Mia (age 4), are retired Cincinnati Ballet Company dancers. The children all take dance lessons at The Studio for Dance in Blue Ash, Ohio, where Jenny is a teacher. One morning Jenny turned on Pandora while the family was getting ready for school and her ears perked at an ad that talked about a family dance-off contest. With a family full of dancers, Jenny immediately recognized an opportunity to promote the benefits of families dancing together for a healthy lifestyle and jumped at the opportunity to participate. "Dance is in our blood, so after doing some research on the Family Dance-off, I knew it was something we had to do," said Jenny. "As our son Nate would say, dance is our family business."
In order to bring an additional donation to Cincinnati Children's Hospital Medical Center, the Meyer and Goodlett family's need votes. The community is encouraged to visit FamilyDanceoff.com to vote once per day from Monday, March 26 to Friday, March 30. The three winners will be determined solely by the popular votes received during finalist week. The winning families will be announced Saturday, March 31.
For more information about the Family Dance-off, visit FamilyDanceoff.com.