We all know we've been spoiled rotten this winter with some beautiful sunny days.  The temperature rises just enough to get us outside to enjoy the day.  I just hope Mother Nature isn't saving her winter storms for March.  All of our snow gear is hunkered down for a nice peaceful rest and I'd like to keep it that way.  A few weekends ago, the temperature was still a bit nippy but since the sun was shining we decided to head out to the new playground at the Voice of America MetroPark (quick, say that name 5 times really fast).
Before, we got to the park we surprised the girls by taking them to a new frozen yogurt shop, Bad Frog. Since I had a Groupon for Bad Frog we were all able to enjoy the tasty treats at quite a discount.  I did look up Bad Frog on the web, and they have some great coupons you can print for BOGO.  Go Bad Frog!  The small yogurt shop is very clean and the employees were very friendly.  The girls even met the Bad Frog mascot. If you've never been, the employees greet you in front of this wall of yogurt machines as they explain what you need to do. Each machine has 3 levers. Two flavors are featured  in each machine and the center lever allows you to combine the two flavors for a delicious twist combination.  Since there are quite a few choices, you are able to taste samples before you make your final decision.  My girls were wide eyed and excited – I think doing the tastings was the highlight of their visit. I opted for praline, K & S went with chocolate,  and Chris stepped out of the yogurt box with a heaping portion of cake batter.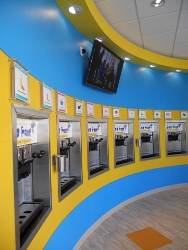 After you decide on your flavor, you can get your bowl to fill.  Be careful, the bowls are big so I'd monitor little ones if they are trying to help themselves (I should have been monitoring Chris – lol).  They'll never eat a full bowl plus you want to save room to add your toppings.  They've got toppings galore – assorted chopped candy, nuts, sprinkles, fruit as well as caramel, hot fudge, & chocolate syrups.  Once you get your yogurt and toppings you then take your bowl to get weighed.  You pay by the weight and at Bad Frog it's $0.46/ounce.  For our family of  four, our total bill was $11.50 (after using our $10 Groupon, we only had to pay $1.50).  My girls really loved Bad Frog.  As soon as we got into the car to leave they asked us when would we be able to go back – always a good sign that it was a kid-friendly winner.  My husband and I enjoyed it too and we'll definitely return.
Next, we headed to the Voice of America MetroPark (VOA).  We paid $10 for a yearly parking permit but this permit allows us to get into any of the MetroParks of Butler County.  If you live in Butler County you can actually get a free parking permit.  The VOA is a great park.  It has a lodge, a gazebo, a small lake surrounded by a paved walking trail and it is very pet friendly.  You will see lots of dogs walking their owners.  There is also a dog park on site.  New to the park is a fun big playground for kids  filled with slides, a center tower, and climbing and spinning features.  The girls made a bee line for the park and joined some other children playing.  I love how kids can make new friends so easily when they are at a playground.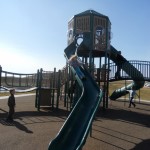 The MetroParks of Butler County have lots of fun family-friendly events at the VOA MetroPark as well as their other parks. Sign up your kids (ages 3-5)  for their Discovery Kids programs and they will learn about nature with stories, songs, hands on activities and a craft. The programs are only $2/child and and adult has to attend with the child.  Click here to visit their calendar of events page for more details.  Also, make sure you save the date for the always fun and entertaining Crazy Cardboard Regatta on July 14. In the summer, they will also have free summer concerts.
We really enjoyed our day and hope you'll get a chance to visit Bad Frog or the VOA MetroPark soon.  Here's their locations:
Bad Frog
West Chester Location
7602 Cox Lane
West Chester, Ohio 45069
513-847-1829
Find them on Faceboook
Hours of Operation: Sun-Thurs 11am-8pm – Friday & Saturday 11am-10pm.  
Voice of America MetroPark
7850 VOA Park Dr. West Chester Ohio 45069 513-867-5835
Find them on Facebook
Open daily 7:00 am until dark  
When not blogging for Family Friendly Cincinnati, you can find Kristin writing on her personal blog, MasonMetu (from me to you).