Last week, I was invited to attend the National Underground Railroad Freedom Center to see their latest exhibit, "Courage – The Vision to End Segregation, the Guts to Fight for It." Courage will be on display now through May 26.   In school, our history lessons always revolved around "Brown v. Board of Education" and while this court case holds a major significance in ending "separate but equal" practices, there was so much more involved prior to this landmark case that I had no idea about.  There were actually "Five Cases" that were instrumental in bringing about change and desegregation.  These included :
Visit NPS.gov to read more about these cases.
So after realizing that my history lessons were a bit remiss, I delved into the exhibit reading as much as I could.  The exhibit will engage you right from the start. The visual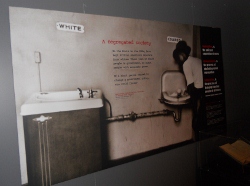 images will impact you.  Seeing the separate water fountains with the signs saying "white" & "colored", and seeing the young poor black children sitting in their run down wooden classrooms at their worn out wooden desks will make you stop and think, "what if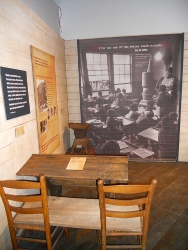 this was my child"?  The exhibit takes us on one family's journey during this time. You will meet the De Laine family.  Rev. J.A. De Laine was an educated black man who owned his own home, and was not dependent on any of the local white families for his livelihood.  He was a minister at the local African American church in Clarendon County, SC.  He started fighting for the rights of not only his family and his community after one father, Levi Pearson, asked the Clarendon County School board for a school bus to transport his kids (they walked nine miles to school) and other black students to school.  While the black children had to walk, the white children had over 30 buses transporting them.  The all-white Clarendon County School Board denied the request and this was the catalyst that led Rev. De Laine to petition the school board to have "equal" schools; getting 107 courageous African American children and adults to sign including the first signer, Harry Briggs. This was the reason that Thurgood Marshall stepped up to challenge segregation and he took on the case "Briggs v. Elliott".
Wow! If you are thinking how unjust this was, then venture deeper into the exhibit to learn even more and see how the De Laine family was directly affected (their house and church got burned down). Other black families lost their jobs, were not able to buy groceries, and had to suffer incredible hardships if they signed the petition and supported Rev. De Laine.   I really liked how the exhibit incorporates the use of videos during your journey.  Press play on one of the monitors and the De Laine children (now all senior citizens) explain to you what life was like for them and those in their community.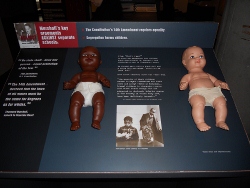 The exhibit also has lots of auditory stimuli.  You'll hear the typing of a typewriter or hear birds chirping in the background.  The visual images and auditory sounds all work to make the exhibit more meaningful.  I was especially touched when I saw a black baby doll and a white baby doll on display showcasing "The Doll Test". I read that when the black children were asked which baby was good and which baby was bad that most of the children selected the white baby as the "good baby".  It saddened me that these children may have grown up thinking they were not as "good" as the white children.
I wish I had more time to take in more of the National Underground Railroad Freedom Center that day.  I will definitely return to learn more about our history, the Underground Railroad and to see the exhibit "Slavery Today" which delves into things happening right now in the 21st Century.
To give you an idea about what the National Underground Railroad Freedom Center has to offer for kids, check out this video, "The Field Trip":
Also, check out what local Mason Middle School student, Maia Thompson, has done to  "Fan the Flame"  to help spread the word about supporting the National Underground Railroad Freedom Center.  This amazing Cincinnati institution that should be treasured and supported.  You can purchase "Fan the Flame" t-shirts that Maia and her friend, Kendall Watkins, are selling to support the NURFC….."Be that Spark to Start this Flame"!
National Underground Railroad Freedom Center
50 East Freedom Way
Cincinnati, Ohio 45202
Telephone: 513.333.7500 or 877.648.4838
Hours & Admission Info:
Tuesday – Saturday 11:00 – 5:00 (last ticket sold at 4:00)
    Adults: $12.00
    Seniors (60+), educators and students with I.D. $10.00
    Children (ages 6-12) $8.00
    Children 5 & under: free (with paid adult)
They also have memberships.  A family membership is only $65 and it includes admission for one or two adults an their children or grandchildren who are 17 and under living in the same household.
When not blogging for Family Friendly Cincinnati, you can find Kristin writing on her personal blog, MasonMetu (from me to you).