As I sit to write this week's round up, the leftovers are away, the pumpkin pie is nothing but crumbs, crazy shoppers are already lined up at Toys R Us and Best Buy…yep Thanksgiving 2011 is officially in the record books.
All of us here at FFC hope it was one to remember – yummy and warm, with all your loved ones nearby. Keep the memory-making going with any one of our top picks in the city this weekend:
Nothing puts me in the holiday spirit more than HOLIDAY LIGHTS!  We have a huge list of options here to see all the sparkle, twinkle and blinking throughout the site.  Visit our post from earlier this month for all the details and locations.
Wanna go all out on Black Friday without worrying about the kiddos?  Drop them off at Pump It Up for their Black Friday Jump-N-Shop. For only $25, kids can come and jump their hearts, do crafts, tasty treats and more!  The Jump-N-Shop is from 9:30 to 2:30 and I guarantee you'll have to drag them home!
Shannan posted about Over the Rhine's Holidays in the Bag happening on Friday – jump start your shopping with unique, delightful options. Eat at local treasures like Lavomatic and Senate. I hear the weather is supposed to cooperate and OTR is a fantastic kick-off to your holiday memory-making! Check Shannan's post on how you can save 20% everywhere!
Downtown Cincinnati's Holiday Dazzle doesn't begin until next weekend, but you can see Santa at Macy's, enjoy the trollies and carriage rides starting Friday, Saturday and Sunday.
As we posted yesterday, the Duke Trains are chugging along in their new home at Cincinnati Museum Center – read all about it (AND ENTER OUR GIVEAWAY FOR OMNIMAX TICKETS) here.  All weekend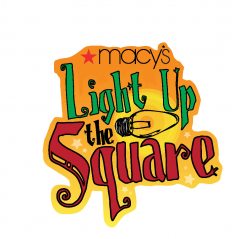 Macy's Light Up the Square happens Friday with festivities beginning at 6:30 pm with live music. If you can't make it downtown, our buddies at Channel 5 will broadcast the lighting live with a 30-minute special at 7pm!
The US Bank Ice Rink is up and running on Fountain Square!  All Weekend
Shannan did an amazing post rounding up all the Holiday events – visit here to see them all!  Keep that list handy as she has packed a ton of things lasting well into the new year and many start this weekend.
IKEA invites all families this weekend for some special fun alongside their shopping. Music, juggling, face painting, balloon artists and more will be on hand Saturday to spread some cheer. Visit their site for specific details and what's happening when.  And BONUS! Kids eat free all weekend long at IKEA!
Head to Middletown on Saturday for their Home for the Holidays Santa Parade; 2pm at Governor's Square at the corner of Broada and Central Avenues. Fun activities will follow the parade.
The Cincinnati Bengals are in town Sunday taking on the Browns. And I see the game will not be televised, so plenty of tickets are available!
A holiday tradition for so many – Cincinnati Zoo's Festival of Lights – kicks off on Friday and will run throughout the Holiday season.  All Weekend