We are thrilled to announce that Family Friendly Cincinnati has added a Community Forum to our site. A special place where readers can connect, ask questions and share with each other, and we hope YOU will join in the discussions.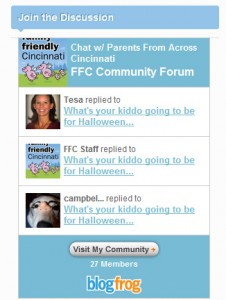 So why a Community Forum —>  While a Facebook Fan Page is similar in function to a forum – letting all our readers engage with each other, one of the downsides is that it is really hard to go back and find information that's been shared in the past.  For example, say we put out a question asking for your favorite Holiday events.  You all respond with tons of wonderful activities, but within days it's pushed off the page, and if you want to refer to it later, it's almost impossible to find.
How Does It Work –> The Community Forum is a place for Family Friendly Cincinnati readers to share information & deals, ask questions and chat about local happenings. You can choose to create a new discussion, or chime in on any that have already been started. The Community Forum also has a "search" tool so you can find specific information quickly.
Check out the Community Forum –> On the menu bar located across the top of our site you will find a new button that says "Community Forum." This link, along with a new widget on the right sidebar, will take you to our new  forum board. Joining is super easy. Once on the Forum page simply click " Join Community" on the top right side of the page. You can sign up with your email address, or you can use Facebook to log in.
Finally, from time to time we'll be posting giveaways just for members of the Community Forum so make sure you join and don't miss out!