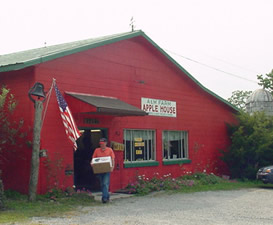 I love going on long car rides in the country – looking at new things and checking out the sights.  Last weekend we decided we needed to get out and enjoy the gorgeous weather and also get some apples. Because really, what's Fall without some apples and apple cider?
We headed out a bit north east of Cincinnati about an hour away from us (in Blue Ash) to the A&M Apple Orchard.  This, for us, was well worth the drive. This is a pick your own orchard – you can pick apples and you can also "pick" pumpkins.
They offer a hay ride out to either places and I suggest you take them up on the offer.  We picked Golden Delicious apples and they lived up to their name – delicious. There were also Winesap, Granny Smith and few other varieties but as we prefer sweet we knew we couldn't go wrong with Golden Delicious. Apples within reach for the kids to pick were fairly hard to get until we found a ladder in the orchard. We oh so carefully propped up in a couple of trees and within about 30 minutes had more apples than we needed.  Of course, I didn't write this down because I just KNEW I'd be able to remember it…..yeah, right… but I'm fairly sure the apples were $.60 a pound when you pick them. Not a bad deal.
After picking the apples, we headed into their store to taste their apple cider (which is really really good) and have a quick treat. My son and I went for the caramel apples while my daughter had a cider pop. I didn't taste the cider pop, but the caramel apples was one of the best I've had in a few years.  I normally see one and buy it because I really like them, but they normally disappoint and I end up throwing them away. Not this one. Both me and my son polished all of ours off.
Next it was on to the second hay ride of the day to go to the Pumpkin Patch.  We normally don't buy pumpkins at patches – the price is typically a great deal more than what I can pick up pumpkins for at the grocery store, but their prices seemed really fair (I think pumpkins were $.28/lb). There were loads of pumpkins in the patch and they were of every size and shape.  We ended up buying two fairly nice sized pumpkins and four smaller pumpkins for $12.00.  I thought that was a good deal and all of us (including the all important husband) were pleased.
Before we headed home, we hit the store once again and picked up a gallon of apple cider.  I wish we'd bought two – by Tuesday, the gallon was gone and we still wanted more. You can buy lots of things in the store – in addition to the cider, you can purchase picked apples, gourds, jams, honey and on and on.
I do recommend you call ahead before heading out – check their hours for the day and what apples they are picking.  Even if they're finished picking apples, I don't think we would have been disappointed in our trip – we had a really nice outing (and normally even when an orchard is finished picking they have apples for at least a month or two after that).
A&M Orchard's phone number is (513) 875-2500 (this is a local call). The address is 22141 SR 251, Midland, OH. I'm going to let you all google this – there's two ways – "in" – if you come from Blanchester, there is a detour – just follow the detour signs and you'll be fine.
As I forgot my camera, I'd like to thank Brown County for the use of their photo.
You can find me on the web at Little World After All.