Lately, our family has been visiting Lebanon, Ohio a lot (see Aug. 8 post) .  My daughter plays soccer with the Warren County United Soccer Club and their home practice fields are at the Lebanon Sports Complex.  Our fall soccer season is coming to a close so our trips to Lebanon may be winding down, but, I did want to share one of our favorite places to visit in the fall and since there are only a few more October weekends, you'll want to get to the The Black Barn soon.   This small farm is an undiscovered gem for many and is perfect for families looking to enjoy a fun farm experience on a budget.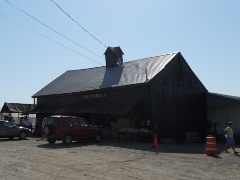 The Black Barn not only has delicious apples (Honeycrisp – yum), fresh tomatoes, jams, honey, pumpkins and beautiful Mums but they also have free events every Saturday and Sunday in October.  You can get a free tractor drawn hayride (pretty long) and then you can meander through their free corn maze.  The corn maze is on a smaller scale but if you have school age kids, it's fairly easy for them to navigate the twists and turns.  Just make sure you tell them to watch their step since the pathway does have quite a bit of corn husks and corn strewn about. My girls had no difficulty inside the corn maze and they enjoyed running through it and playing in the corn stalks.  They also have pumpkin decorating and face painting on the weekends.  You just have to pay for the pie pumpkin you are decorating ($1.99 or 3 for $5).
One of the highlights for me is getting the yummiest caramel apple treat.  It is delicious.  The owner of The Black Barn takes a fresh apple, cores and slices it and then covers the apple with hot thick caramel and crunchy nuts.  Best of all it's only $2!  I shared it with my husband but next time, I may not be feeling so generous. My girls had fun picking out mini gourds. They each picked 5 since they have the best pricing around – only $2 for 10 mini gourds or $.29 for one.  They have fresh popcorn ($.25) and you can get a small cup of cold apple cider for only $.50.  There are also plenty of pumpkins and beautiful Mums to make your porch look festive for the fall season.
We really enjoyed visiting The Black Barn and having a beautiful day was an added bonus.
The Black Barn
1161 West Main Street Lebanon, Ohio 45036 (513) 932-2093 No website but you can find them on
Facebook
.