Last month Coca-Cola held a great "America Is Your Park" program with Cincinnati Parks at the beautiful Theodore M. Berry International Friendship Park on the banks of the Ohio River.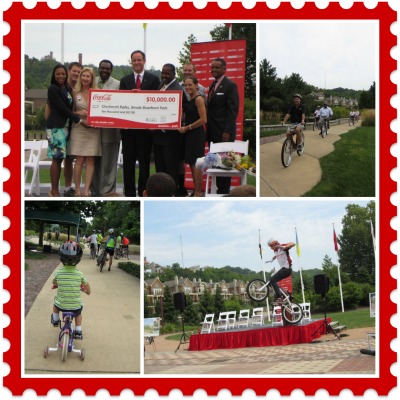 At the community event and in front of over 90 community leaders and park supporters, Coca-Cola awarded a $10,000 grant to Smale Riverfront Park and the Cincinnati Parks Foundation. This grant will help fund the building of a new Bike & Mobility Center. The Center will offer a full range of options for both visitors and Cincinnati residents to enjoy. A wide variety of bikes will be available for rent at the Center, as well as strollers, tagalongs, trailers and kids' safety equipment.
Coca-Cola employees, community leaders, supporters and writers from Family Friendly Cincinnati were on hand for the grant presentation and to help Cincinnati residents discover fun places in the park to get active. Several community leaders spoke on the importance of our local parks, including: Congresswoman Schmidt, Cincinnati Councilmembers Quinlivan and Young, Cincinnati Parks Director Willie F. Carden Jr. and State Senator Eric Kearney.
After the presentation, WLWT anchor Todd Dykes led members of the Greater Cincinnati Boys
and Girls Club on a ceremonial first bicycle ride through the park. In additional, professional BMX
rider Bill Nitschke fired up the crowd by performing several BMX tricks using a bicycle and a ramp.
The day's activities were all part of Coca-Cola's "America Is Your Park" program.