Living in Mason, Ohio I am always amazed at the amount of family friendly things we have to do.  This Thursday, you can visit Cedar Village for a free concert.  Below is the press release for the Buffalo Ridge Jazz Concert.  Hope you'll stop by.
CEDAR VILLAGE RETIREMENT COMMUNITY WELCOMES PUBLIC TO JAZZ CONCERT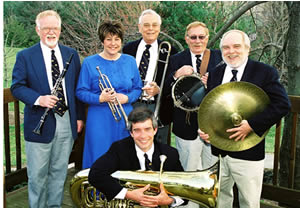 Buffalo Ridge Jazz Band
MASON, Ohio – For the first time, Cedar Village Retirement Community will be welcoming the public to an outdoor jazz concert, which will feature the Buffalo Ridge Jazz Band.The concert will be held 7 p.m., Thursday, Aug. 11 at Cedar Village.
The retirement community is at 5467 Cedar Village Dr., a quarter- mile from Mason- Montgomery Road in Mason. Directions and a map are available at www.cedarvillage.org.
Cedar Village believes aging should be an enriching and fulfilling experience, so it offers a wide variety of stimulating programs for its residents, including entertainment and education. The Buffalo Ridge Jazz Band is a favorite of Cedar Village residents.
"We thought our folks would love an outdoor concert and we thought we'd share the fun with our friends and community," said Carol Silver Elliott, Cedar Village's President and CEO.
Buffalo Ridge, based in Greater Cincinnati, specializes in classic traditional jazz with an entertaining and humorous presentation. The band appeals to listeners of all ages. Founded in1994, it plays in jazz clubs, on cruises, in parks and at jazz festivals.
Buffalo Ridge will perform on Cedar Village's lawn near its gazebo.Guests are encouraged to bring lawn chairs and blankets. In case of rain, the concert will be held indoors in the Wilbur and Mary Jean Cohen Religious and Cultural Center. Free refreshments will be provided.
The concert is made possible through the generosity of the Harkavy Fund. The Harkavy Fund was established in memory of Frank Harkavy, Cedar Village's first board chair. It was established by his grandson, Max, who asked that his Bar Mitzvah gifts be directed to the fund and used to enhance programming for Cedar Village residents.