Tis' the season…. farm fresh produce, delicious jams & jellies, sweet honey, hand made soaps and so much more are just waiting for you at the West Chester Farmers' Market.  The girls and I visited a few weeks ago and we not only got to enjoy seeing all the wonderful local vendors, but we also got to have fun with the folks from the West Chester Art Market.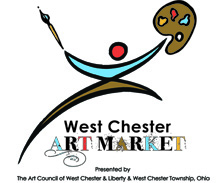 The West Chester Art Market is hosted by the Arts Council of West Chester & Liberty. My friend, Darla Kirchner, of Darla Kirchner Designs has worked hard bringing together local artists for this new art adventure.  Held on the second Saturday of the month in conjunction with the West Chester Farmers' Market, the Art Market has lots of free family fun.  We started off the day listening to a few stories with Christy Williams from Book Bums.  Christy is a teacher who engages the children with her storytelling and makes it even more fun by incorporating a easy to make craft that is inspired by the books she selects.  The girls made adorable tissue paper flowers and then got a bonus cookie to top it off.  They loved it.  After the story, they had adorable lizards painted on their arms but we also saw some butterfly and snake faces walking around.  They also had a fun improv theater group performing, New Gate Celtic Theatre Company.  The audience was feeding them plot ideas by mentioning movie titles.  My daughter came up with "Cloudy with a Chance of Meatballs" and the group did a great job coming up with a funny improv.  Keeping my girls' attention really showed me they could act. Some of the local artists even had some booths set up with their beautiful art pieces.  If you are looking for a unique one of a kind gift for someone, stop at the next Art Market this Saturday, July 9 from 9am to Noon. The West Chester Art Market is held the second Saturday of every month through October at the West Chester Towne Centre & Centre Point Drive.
I really enjoyed walking through the West Chester Farmers' Market.  Talking with some of the local vendors is always interesting and seeing some of their delicious food items or creative products makes me want to fill up my reusable shopping tote to the fullest.  I stopped by the  Jam & Jelly Lady booth, Wooden Shoe Baked Goods, Chris' Honey, Tanner's Tomatoes, and many more (click here for a listing of all the local vendors).  But alas, since I had two whirlwinds with me, I only got to fill up with a few things.  I did buy some organic eggs  ($4 for a dozen/large and $2/dozen small from Morning Sun Farm), yummy scones, and some fresh tomatoes.  The West Chester Farmers' Market is held every Saturday from 9am-1pm through October 15, 2011.