Whew…..we went from rain that didn't seem to stop right into a hot, hot, hot summer!  Last week, Karen posted about some great places to cool off in Greater Cincinnati and this past week we took some of her advice.  I enlisted my Mom to head to Sawyer Point/Yeatman's Cove with me and my girls since I heard that the Cincinnati Parks District recently opened their sprayground (a.k.a. Otto Armleder Aquatic Fountain).  Some of you may be thinking, "what's a sprayground" and is that even a word?  A sprayground is an area encased with soft rubbery playground material that has water spraying up, down and all around.  It's like running through the biggest sprinkler you'll ever find.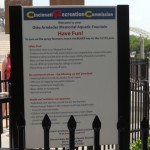 Now, if you remember how fun it was to run through sprinklers as a kid, you can just imagine the pure joy that occurs at a sprayground.  My girls and all the kids there were having a blast darting through the water.  I really liked that the sprayground was surrounded by a fence and since we situated ourselves by the only entrance, we were able to keep a close eye on the girls plus the trees surrounding our circular cement nook gave us a nice shady spot to relax.  There's plenty of places to hunker down and enjoy the day. The huge built in concrete wall of stepped seating has plenty of room for onlookers who are not quite ready to run, but it's also located in the sun so just make sure you lather on the sunscreen.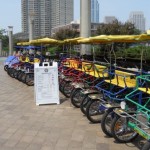 I love visiting Sawyer Point. The park is beautiful and if you like to bike or jog, you can do so on the paved paths and you'll get some great views of the Ohio River.  They also have these cool "Wheeler Fun Rentals".  According to Cincinnati Parks they are "pedal powered recreational cycles including Cruisers, Tandems, Quad Sports, Choppers, Deuce Coupes and 4 wheel Surrey Bikes." I'd love to return one day and rent one for our family when the temp drops a few degrees. Rental rates start out at $5/hour and go up depending on what you rent and for how long.
You can really make Sawyer Point into a FOD (Family Outing Day). Pack a picnic lunch, some blankets, a frisbee or a ball. After enjoying the sprayground, head over to the Pavilion area for your picnic then let the kids play at the cool playground (the sprayground and playground are on opposite ends of Sawyer Point and the grassy Pavilion area is sort of in the middle of the two).  If you bring a volleyball, you can even start up a game on the sand volleyball courts.  Tennis courts are also available for your use.  All of these activities are free. The only thing you'll have to pay for is parking.  Normally parking is $4 but if there's a special event going on then parking may be higher. The day we visited parking was $8 because the Cincinnati Reds had a home game.
Sawyer Point is open from 6am-11pm every day of the year.  They also have some great events featured throughout the year (concerts, runs/walks, festivals).  If you've never been to Sawyer Point, I hope you'll take the time to visit.  Your kids will have a great time!