Well, if you survive this freaky Friday the 13th, there is much to be done in Cincinnati this weekend.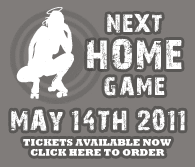 At the top of our family's list is Saturday's Cincinnati Rollergirls match.  They are taking on Pittsburgh, so what a perfect time to perfect your family-friendly trash-talking before the Steelers visit this Fall.  The Gardens open their doors at 6pm and the bouts start at 7pm.  We wouldn't miss it!
Oakley After Hours happens on the second Friday of every month through August. And on Friday, in addition to a ton of happenings, our friends at the blue manatee will host Manatee Mart, 6pm-8pm.
If you haven't added The Carnegie to the top of your great places to visit yet, now is the time!  On Friday they will launch a new exhibit A Closer Look which will delight your whole family. See kaleidoscopes from around the world in this fantastic and fascinating exhibit. There is an opening night celebration on Friday from 6pm to 9pm; admission is $8 for adults; $5 for seniors and students  and children under 12 are free!  This exhibit runs through June 24th and is free after opening night.

CCM's Preparatory Department will have end of the year performances for many of their programs on Sunday. Check their site for more details, performances are at 3pm and 7pm.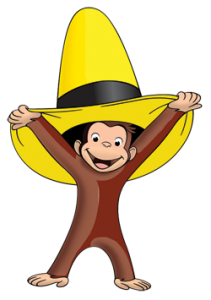 The Cincinnati Zoo welcomes the main monkey himself Curious George to the park on Saturday and Sunday for Storybook Fun.  This program is part of everyone's favorite: Zoo Babies.
Madcap Puppets will be presenting Tales of Flight with the Brothers Wright at Westwood Town Hall (3017 Harrison Avenue) in Cincinnati, OH on Saturday at 2:00 p.m.  Tickets are $5 and can be purchased at the door.  For more information, please call (513) 662-9109.
Head to IKEA on Saturday for their Kids' Fair. Kids eat free with tons of activities inside and out.  The fun runs 11am to 3pm.
The Frisch Marionettes will perform at the Covedale Center for the Performing Arts on Saturday at 11am.  The kids will enjoy a double header with Peter and the Wolf and The Frog Princess.
Opera anyone?  The Cincinnati Opera will perform a shortened version of Mozart's The Magic Flute on Sunday at 3pm in Eden Park.  Beautiful music surrounded by the beauty of nature – what could be more lovely? CANCELLED DUE TO THE WEATHER!

The Cincinnati Observatory will host Sun Day, Sunday, Sundae on Sunday (when else, right?) 1pm to 4pm.  Learn all there is to know about the Sun and enjoy a creamy treat too.  Our family went last year and had a great time.
I posted about the Vintage Baseball teams in the area last year and you can catch them in action on Sunday at the Heritage Center in Sharon Woods. The Cincinnati Redstockings will host a double header of family friendly fun starting at 1pm.  The games are free with your paid admission to the Heritage Center ($5 for adults and $3 for kids).
This weekend the MainStrasse Village hosts it's 32nd annual Maifest celebration.  Head down during the day with the kiddos and enjoy carnival rides (get the wrist band… trust me), fabulous food, 90+ unique arts and crafts booths and  plenty of entertainment. This annual event is one of my boys' favorites.
Have a terrific weekend Cincinnati!