One of the things Cincinnati is lucky to have are non-profits like People Working Cooperatively, an organization that provides critical home repairs for low-income, elderly and disabled homeowners. I've been blessed to have worked with PWC in the past and am thrilled that they agreed to do a guest post for us, just in time for their upcoming Repair Affair event. Please join me in welcoming PWC's Marketing Manager, Kim Sullivan. I hope you enjoy learning about this organization and that you'll consider getting involved!
— Shannan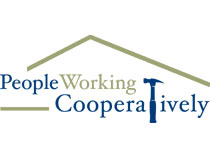 Saturday, May 14 will be a busy day for the Tri-State for us at People Working Cooperatively (PWC). An estimated 800 volunteers will be spending the day providing critical home repairs and modifications for 100 low-income, elderly and disabled homeowners throughout Greater Cincinnati, Northern Kentucky and Southern Indiana through PWC's annual Repair Affair.
PWC is a unique, non-profit organization based in Cincinnati that focuses on providing critical home repairs, mobility modifications and energy conservation services. The organization runs on a combination of licensed professionals and dedicated volunteers, and in its 36 years of operation, we have helped more than 200,000 individuals stay safely in their homes.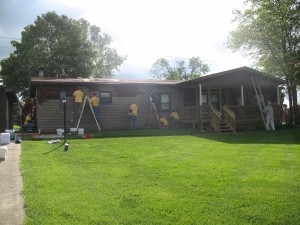 Repair Affair, which is coming up in this Saturday, is one of our favorite annual events. After a long winter, many homes need more than a little TLC – they need critical repairs. That's where PWC comes in. PWC staff and volunteers will be performing repairs that range in complexity, such as:
• Plumbing: vanities, faucets, laundry tubs, drain traps, fluid masters, toilets;
• Carpentry: ramps, handrails, grab bars;
• Safety repairs: smoke detectors, locks;
• Structural work: gutter replacement, drywall, concrete;
• Electrical work; and
• Miscellaneous household chores: cleaning gutters, washing windows, yard work.
Repair Affair is one event that can truly affect the whole neighborhood. Many of our clients own their home but can't afford to keep up with maintenance as they make less than $13,000 a year. For many elderly or disabled homeowners, having someone assist with yard work and home repairs can have a big impact. And while PWC helps clients all throughout the year, certain events like Repair Affair can put a spotlight on the work we're doing and how the rest of the community can pitch in.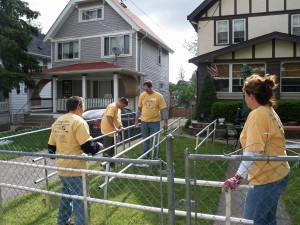 In fact, with PWC's 29th Annual Repair Affair approaching this weekend, there is still time to sign up to volunteer! If you're interested in spending the day helping out one of your neighbors in need, call Sara Bourgeois, PWC volunteer manager, at (513) 351-7921 or visit PWC's website at http://www.pwchomerepairs.org/. Projects are taking place all across the Tri-State – there's likely a project or two going on in your neighborhood.
There's an optional $10 donation for individuals, or $20 per family, to cover the costs of participant T-shirts and event registration, and those in the community with skills in roofing, general carpentry, plumbing or electrical work are strongly encouraged to volunteer. If you know your way around a tool chest, this is your day to shine.
You can expect a little hard work, a lot of fun and a great sense of accomplishment. We will also have an overflow of Repair Affair projects taking place Saturday, May 21.
We are always looking for good people – especially plumbers, carpenters and electricians – and their families to volunteer with PWC, whether it's during one of our annual events – Repair Affair and Prepare Affair (in the fall) – or just on your own time. If you're interested in learning more about People Working Cooperatively, like us on Facebook or follow us on Twitter.