Greater Cincinnati – so much to see so much to do.  We were lucky enough to enjoy both Cincinnati and Newport, KY one day and I wanted to share a bit about our adventure. My two girls (ages 6 & 7), me and my Mom started our day visiting the UnMuseum at the Contemporary Arts Center.  I've driven by the CAC numerous times always wanting to visit and we finally got our chance. I loved the clean lines of the museum, the cement curved wall on the main level, and the ginormous art wall that greeted you upon entering the large open space. We got lucky the day we visited, since the CAC had opened its doors for free admission (if you visit on a Monday night from 5-9pm then the UnMuseum is free courtesy of Macy's).  We were told we could take pictures on the main level and in the UnMuseum so I'm sharing some of those.  I wish we could have taken pictures of some of the other levels since the art ranged from visually striking colorful exhibits, to more subdued images that made you think.  On the day we visited, we also got to see some really cool motorcycles all decked out. We decided to start our journey in the UnMuseum so we hopped on the elevator and up we went.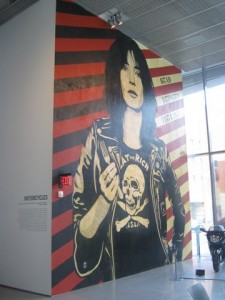 This is on the main floor – you can take pictures here.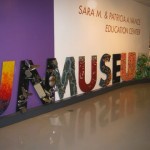 The UnMuseum was wonderful.  My girls loved it.  When you enter, the first thing you'll notice is the large colorful UnMuseum sign – all the letters were made from different art mediums. My girls bee-lined to the raised level art station where they could paint, stamp, and color as long as they wanted.  There were a few kids hard at work making their masterpieces.  There is a large square pillar where young artists leave their artwork for others to admire.  I loved seeing kids' art – their innocence and creativity shines through in every piece.  After they finished their artwork, we moved into the rest of the UnMuseum.  The exhibits were so much fun.  The girls loved entering the sloped room where desks and chairs are all on an angle.  They also had a chance to conduct a symphony and really had fun on the conductor's podium. One thing that I tried with them, but wasn't able to last too long in was the colorful trailer that rocks back and forth while you are inside.  It can really get moving.  Luckily it's anchored and enclosed in a fenced area but it can really move.  If you're able to handle motion, enjoy the ride otherwise you may want to watch from the outside. The UnMuseum is only one level but it's got plenty of interactive exhibits to keep your child engaged. I hope you'll visit one day soon. In addition to being free on Monday nights, the UnMuseum offers kids programs and family art adventures.  Stop by for Family Saturday on the fourth Saturday of the month from 1-4 pm or visit for Thursday Art Play on the 2nd and 4th Thursday of the month.  Thursday Art Play is geared for 3-5 years olds and is from 10:30-11:30 am.
Admission: $7.50/adults, $6.50/seniors, $5.50/students with ID , $4.50/kids, free for kids 3 and under and members.
Lunch break at Capri – While at the UnMuseum, I overheard two Mom friends discussing where they were going for lunch.  They were headed to Capri for pizza and after chatting with them we decided to go there too. It's a small Italian pizza place (lots of take out going on) with a few tables where you can eat in.  The pizza was yummy. They have large slices so if your kids have smaller appetites, have them cut the pizza in two and they can share it. They also have salads, Panini's and delicious Tiramisu. 420 Walnut Street, (513) 345-7985.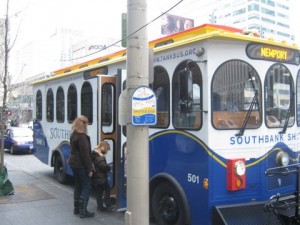 Trolley Time (TANK – Southbank Shuttle Trolley) – After we were fortified, we walked over to the Westin Hotel (across from Fountain Square) and hopped on the TANK trolley.  The trolley is only $1/each way and the driver said my girls were free since they were under 48″.  We've never taken the trolley to Newport and we had a lot of fun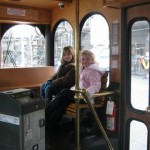 sitting on the trolley and going over the bridge to Newport.  Our driver was so nice and cheerful and the trolley car was very clean.  The Southbank Shuttle makes stops in Newport, Covington and Cincinnati with stops every 15 minutes so you'll never have to wait to long.  Click here for their hours of operation.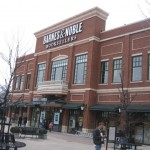 Newport on the Levee – The TANK trolley dropped us off right in front of Newport on the Levee. Since the girls had already spent time at the UnMuseum and were getting a bit tired, we decided to visit Barnes & Noble Booksellers and walk through the mall area.  Of course, there is plenty more to do – you could visit the Newport Aquarium, bowl at Star Lanes on the Levee, have an ice cream at Cold Stone Creamery, see a movie at AMC theatres, enjoy lunch at one of the many restaurants on site or head to GameWorks for some gaming fun.
After hopping back on the TANK trolley, we ended our adventure back on the Cincinnati side and were dropped off in front of the Westin Hotel.  We'll definitely do another trolley adventure and next time we'll head over to see some of the things to do in Covington, KY.  Northern KY and Cincinnati have plenty of family fun just waiting for you to experience.  If you have any favorite spots downtown or across the river, please leave a comment so we can share more great tips on where to go for family fun.