I don't know about you but the winter doldrums have started to set in and I am getting that antsy,  "I NEED TO GET OUT OF THIS HOUSE"  feeling.  Spring break is still more than a month away and even though we've had a small break from the snow and ice, I don't think I'm going to start celebrating the arrival of spring just yet.  But, it's nice to see that the Warren County Convention & Visitors Bureau is trying to brighten our days and liven are moods.  They are having a fun "Cabin Fever Reliever" contest going on now.
It's so easy to enter, you just hop on over to their website, and provide a few details (name, email, etc.) and you'll be entered in their March give away which includes:
I loved seeing the Boonshoft Museum of Discovery featured since this is such a great museum for families.  It's been a few years since we visited (my pictures are from 2006 – ahhh my girls were so little),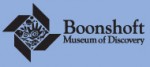 but now I definitely want to return.  The museum is filled with so many wonderful interactive exhibits and it even has a small Discovery Zoo on site where you can see "over 100 animals and insects".  In addition to all their exhibits, they also have daily programs that are educational and fun.  On our last visit, my girls were entertained for hours on the second level as they did lots of pretend play in the grocery store, Court House and animal hospital. We also visited the Mead Treehouse and enjoyed seeing the trees all around us – next time maybe we'll spot some birds.
Also included in the give away are tickets to the archeological wonder, Fort Ancient.  This is another place I need to add to our "to do" list.  Fort Ancient is located in Oregonia,  Ohio.  There's a 9000 square foot museum on site filled with Native American history, artifacts and touchable objects.  Fort Ancient also has plenty of hiking trails to enjoy.
Warren County has so much to offer for visitors and residents.  Having the moniker, "Warren County…Ohio's Largest Playland" certainly fits the bill.  Visit their website for a great listing of family-friendly places and other suggestions to "cure your cabin fever".
Boonshoft Museum of Discovery
– Call for more information: (937) 275-7431 2600 DeWeese Parkway Dayton, OH 45414 Hours: 9am–5pm – Monday-Saturday & Noon-5pm on Sunday. General Admission: Kids 2-12 years/ $7.50, adults/$8.50, seniors /$7.50 and kids under 2/free, Members/free.  
Fort Ancient
– Call for more information : (513) 932–4421 or 1–800–283–8904 6123 St. Rt. 350 Oregonia, Ohio 45054
Admission: $6/adults, $5/Seniors, $4/kids 6-12, under 6/free, members/free
Winter Hours: December–March: Saturday – 10am–5pm
Sunday: Noon–5pm
Closed Monday–Friday, except by appointment
Regular Hours: April–November: Tuesday–Saturday – 10am–5pm
Sunday – Noon-5pm
Closed on Mondays
Tip: If you have a membership to Cincinnati Museum Center, double check your membership to see if your pass has a reciprocal relationship with Boonshoft Museum of Discovery.  Your pass may allow you to get in free and vice versa for the Booshoft Museum pass holders.