I know there are many Proud Poppas and Proud Mommas out there, but can you also be a Proud Patron and Proud Friend? Yes, sign me up! Our community is so lucky to have the outstanding children's theatre troop, Acting Up, in my hometown (Mason, Ohio).  Acting Up is a non-profit all volunteer family-oriented theatre group that helps youth excel in the performing arts.  They are also members of ACT, Association of Community Theatres of Greater Cincinnati. Whether you are part of the cast or crew, there are so many wonderful learning opportunities available (set design, choreography, acting, singing, dancing and more).  It's also a great way to instill a love of the arts at a young age while having fun, fun, fun.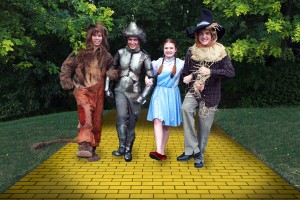 For Acting Up's 5th anniversary they wanted to bring back a classic for an encore performance. The Wizard of Oz will be brought to life at the Mason High School Auditorium on September 24-26, 2010.  The great thing about this show is that some of the original cast members who were only 6 or 7 at the time are back again to showcase how they've grown and matured as actors.  And for a little ironic twist, the Wicked Witch from the first show, Kalyn Corstanje, is now starring as Glinda the Good Witch.  Seeing Dorothy, Tin Man, Lion, and Scarecrow follow the yellow brick road to OZ is a great way to introduce kids to all that live theatre has to offer.  Tickets are $10/person (both adults and kids) and if you are a senior citizen or have a group of 20 or more attending, tickets are $8/person.
I am definitely a "Proud Patron" since my girls and I thoroughly enjoyed their performance of Annie Jr. in Spring 2009.  I am also a "Proud Friend" since my dear friend, Laura Peebles, is one of the driving forces behind Acting Up and has produced many of their award winning show. Laura along with her talented husband, Brent, are founding members and have worked tirelessly along with so many other volunteers and families to bring these great productions to life.  But, don't just take my word for it, Acting Up's numerous awards speak for themselves. They have been nominated for 204 Orchid awards, winning 78 of these which have included Excellence in Ensemble, Excellence in Dance Execution, Excellence in Producing, Excellence in Direction, Excellence in Vocal Performance and more – I think the word "excellent" probably sums up "Acting Up" best.

Acting Up not only cultivates a love of the arts for their young performers, they also give back to their community. Laura stated, "We focus on doing good deeds during our performances like performing at nursing homes, extended care facilities and the Ronald McDonald house.  We have given away hundreds of tickets to needy kids who are on meal-plans at school.  Also, at each performance we collect for those in need such as Crayons for Computers (High School Musical); the Red Cross in Beaumont, TX after a hurricane (Footloose), One Way Farms (Annie Jr.), and more".  They are still researching who the Wizard of Oz recipient will be.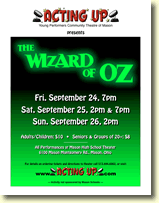 I hope you'll get a chance to see Acting Up's performance of The Wizard of Oz. To learn more about me, visit my personal website, MasonMetu (from me to you). Below are some pictures from the recent Mason Heritage Festival parade showing Acting Up enjoying the day.