I'm really excited that Farmers' Fair is coming soon.  After recently viewing the movie, Food, Inc., I have a whole new appreciation on what it means to eat local. We are so fortunate to have so many great farmers' markets in the Cincinnati area. Of course, you can't beat visiting historic Findlay Market if you really need some wonderful fresh local foods.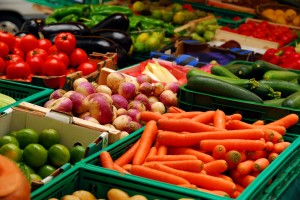 On Saturday, Aug. 28 from 10am-10pm, Farmers' Fair, will be held in Covington, KY in the Roebling Entertainment District (corner of Court St. & Park Place).  The event is not only a fundraiser to help support local food organizations such as Slow Food Cincinnati, Ohio Valley Foods, The Central Ohio River Valley Local Food Guide, and Future Farmers of America (Northern KY Chapters), but it is also a great way to get introduced to what it means to buy local and eat local.  Admission is free and there will be an Earth Mother Farmers Market from 10am-4pm so bring your reusable totes and stock up on some delicious fresh produce, cheeses, meats and yummy treats.
At 1:30pm, see keynote speaker, Ed Begley Jr., who is an actor and environmental activist.  He also has a show on Planet Green called Living with Ed and has authored some environmental books – a book signing will follow.  The Ethical Butcher, Berlin Reed, will also be speaking.  He hails from Portland, Oregon and is a "butcher, chef and writer".You can also enjoy a street fair, children's activities (face painting, petting zoo, planting seeds), and see the Comet Bluegrass All Stars perform at 5:30pm.
There will be a variety of local restaurants and talented chefs on hand providing delectable bites of their culinary masterpieces.  It's not often that you have representatives from some of the best restaurants in Greater Cincinnati on hand.  Here's a listing of the participants from the Farmers' Fair website:
For a listing of all the events, please visit the Farmers' Fair website or join them on Facebook.   I hope you'll visit Farmers' Fair – I'm sure there will be something there to tickle your taste buds.  Farmers' Fair sums it up best, "eat fresh, eat local, eat here".
To learn more about me, head over to my personal website, MasonMetu (from me to you).